Montana Car Transport Made Easy
The Spanish word for mountain is "montana". It rolls off the tongue and fits the state perfectly as the Rocky Mountains dominate the western third of Montana. There are not many folks in such a wide-open place, and that makes it especially troublesome for car transport companies. It is very difficult for auto shippers to amalgamate full loads of 8 to 10 vehicles in Montana going anywhere else in America. And even harder doing the reverse. Montana car transport frankly takes awhile and people just know to be patient. Who wants a car anyway when all a man needs is the backside of a horse?
Car Moving To Montana
Some folks eschew the horse, however, and prefer having a car. There are three major interstate highways that crisscross Montana. I-90 runs from Coeur d'Alene, Idaho (near Spokane) through Missoula, Butte, Bozeman and Billings. It is there in Billings that I-94 begins, or ends depending on your perspective, and carries on eastward through Miles City and into North Dakota. Also in Billings, I-90 takes a dive south into Wyoming before resuming its proper direction due east. All those towns benefit by their locations along those major interstates, because car shippers are loath to venture very far off that beaten path.
The only other major interstate is I-15, which starts at the Canadian border, where auto transport companies will beg you not to ship a c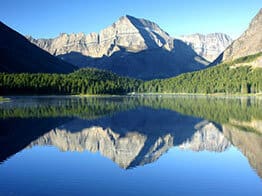 ar, and traces straight south through Great Falls, Helena, Butte and into Idaho. I-15 actually carries on through Salt Lake City, Las Vegas, Los Angeles, San Diego and ends at the Mexican border. In Big Sky Country, however, there is not nearly as much auto shipping traffic as farther south.
Ship A Car To Montana
The low population density of Montana means that if a customer is not somehow in close proximity to I-90, I-94 or I-15, he is likely to wait a long time for an auto transport truck to come by. If you got a phenomenal car deal on Ebay with a vehicle in Montana, you may end up paying the difference getting a car shipper to go out of his way to pick it up. So basically expect to pay a higher shipping rate in Montana and then have to wait.
The warmer months are not so bad and often we are pleasantly surprised in Montana, but the winter months put a cold chill on auto transport shipments. Please use our vehicle shipping cost calculator to determine your rate in Montana or call our customer service representatives at 800-600-3750. You can also visit Direct Express Auto Transport to fill out a simple form and get a free car shipping quote. We make it easy to book your vehicle shipment online.
Montana Auto Transport
View Larger Map