Auto Transport Quote Calculator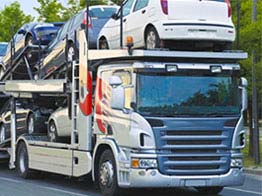 Direct Express is the best place to perform reliable auto transport quotes to ship your car!
We were the first to have an online state to state car shipping quotes calculator.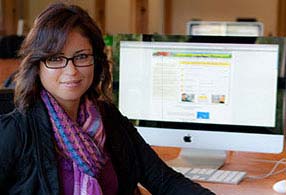 Our customer service specialists provide the most affordable auto shipping rates.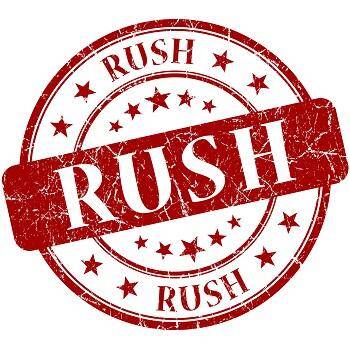 Take Our Advice - Choose Expedited or Rush rates to ship much faster in the Summer!
Auto Transport Quote Calculator Cross-Country
800-600-3750
Our Website Is Secure For Online Booking!
We are rated 5 Stars by Google + Reviews.
We have over 400 Google Plus Reviews and rated 5 Stars! Read all of them here. Facebook too … TrustPilot as well … and oh yeah, the BBB says we rock with nearly 200 positive reviews. We are the best and most reliable car shipping company in the country!
Hours of Operation – Weekdays
Eastern: 9:00 am – 8:00 pm
Central: 8:00 am – 7:00 pm
Mountain: 7:00 am – 6:00 pm
Pacific: 6:00 am – 5:00 pm
Our original and easy to use auto transport quote and order website is available 24 hours a day, 7 days a week for vehicle shipping rates and online booking. You will receive an order confirmation email and another with a phone call once your vehicle is assigned.
Our Car Shipping Quotes Calculator Explained
Which Company Was First To Provide Auto Transport Quotes Instantly Online?
Direct Express Auto Transport was the first company to offer an instant online auto transport quotes calculator in 2004. We immediately recognized how difficult it was to get a straight answer to the simple question: "How much does it cost to ship my car cross-country?". Calling around to numerous car transport brokers elicited the same response, that a vehicle shipping estimate would only be provided if personal information was provided first. That really did not sit well with us because there is absolutely no legitimate reason for it. Seriously folks, most every other industry will advertise or reveal the price for their goods or services upfront. Why not the car shipping industry?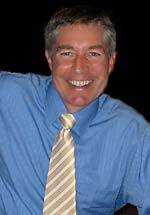 Direct Express Auto Transport went the opposite way, painstakingly creating an auto transport quotes calculator that could produce accurate shipping rates instantly online from any location to any other in the 48 contiguous United States. Further, we decided not to ask for any personal information, instead trusting the customer to appreciate our auto shipping rate service and honor us with their business. We didn't stop there. We also decided that it would only be fair to allow the customer to cancel with a full return of the deposit anytime prior to picking up the vehicle. We still do business that way and our customers appreciate it.
Standard,
Expedited and Rush
Auto Transport Quotes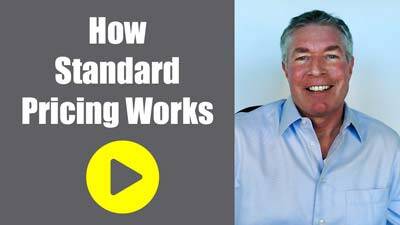 The first one, our Car Transport Standard Rate, is plenty fine for most people as their vehicles typically get assigned a carrier between 1 and 7 days of availability over 80% of the time. It offers the best deal on auto shipping, especially for those on a tight budget, and most people are fine waiting a few extra days. This is the most basic rate a carrier will accept if there is nothing else higher. Busy seasonal traffic like summer and holidays, and remote locations, might inhibit this price.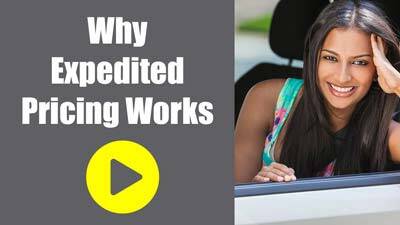 But by selecting the Auto Shipping Expedited Rate, the auto shipping quote calculator adds $100, which makes your vehicle more competitive and usually beats the majority of others waiting to ship. Expedited rates are especially wise during busy seasonal car transport traffic like summer and holidays. It could also help lure a carrier to remote locations. Your Expedited auto shipping order cuts in front of the other normally priced vehicles, and maybe a driver chooses yours over another. Or maybe he drives a little out of his way to fetch or deliver your vehicle. That extra $100 is often well spent if you are in a hurry to ship your car.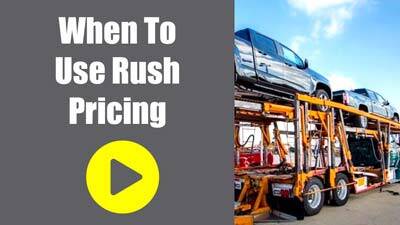 There are some people who just don't want to chance it and go full steam ahead, selecting the Car Shipping Rush Rate, which is $200 more than the Standard Rate. If there is a carrier anywhere in the vicinity of the origination and heading anywhere near the destination, that extra $200 is often enough to get fast action.This price makes your vehicle hyper-competitive and usually places you at the top of the list waiting to ship. Rush rates are very smart during busy seasonal car shipping traffic like summer and holidays. If there is a carrier making your run, he will likely gravitate to this. Remember, Direct Express Auto Transport originated the instant online auto shipping quote calculator, which means we have been doing it longer … and we say better!
Why Our Car Transport Rates Calculator Is So Much Better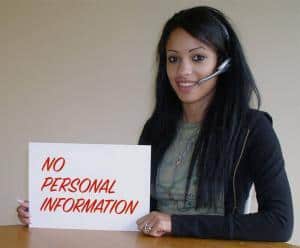 It was only a few years ago that a couple of car transport brokers tried and failed to copy our car shipping rate calculator. We even recognized our words and descriptions on their sites. Our car transport quotes calculator is a mathematical puzzle that those other cheap knockoffs have not solved. Direct Express Auto Transport has reportedly one of the lowest cancellation rates in the auto shipping industry, which only happens with hard work and a proven formula. We are rightfully proud of our success and know it is because our car transport rates calculator is spot on most of the time to ship a car cross-country. Part of that is the quote calculator and the other part is human. Like a fancy sports car that can easily blow by the competition but is really only as good as the person driving it, our quote calculator needs a driver. Somebody has to know what he's doing, stay on top of the market, notice trends and punch in the proper numbers. Experience matters a great deal when it comes to auto transportation, ladies and gentlemen, and we have been doing this for nearly fifteen years! We know what it takes to ship a car fast and proper. Every customer has questions that need answered. Shipping vehicles is no easy task. How will they take delivery of their car, suv, mini-van or pickup truck? Moving is stressful and they want answers. When a customer enters a quote request, they should know that Direct Express Auto Transport is licensed and bonded since 2004, carries an up-to-date insurance policy (fully insured folks), and is the type of car shipping company that goes about our business in a safe way. We have a strict privacy policy that means we will not sell your personal information to any third party. Hey, it's not just our rights reserved, it's yours too! That should give you peace of mind.
What Is The Auto Transport Industry?
Whether you realize it or not, dear customer, you are actually competing against other customers for truck trailer space when shipping a car cross-country. It is all about supply and demand in the auto transport business. Isn't that true in every industry? You ask, which vehicles will ship first if there is limited trailer space available? The highest priced ones, of course. If there is a surplus of truck space in the market, then almost everybody ships. The higher priced freight (called loads) cut in front of the lower priced vehicles and ship first. It does not matter when the customer enters his order. The best paying vehicles for the truck driver will always go first, which means somebody new can cut in front of somebody old at any time. We know it well and aim to hit that sweet spot where the customer saves money and the auto carrier considers the deal fair. That's why we are so good. We find the happy middle ground between the customer and the hauler. We pass up the too low, won't ship anyway orders, and price our customers' vehicles properly to ship on average inside of one week. That's what our vehicle transport rates calculator is doing on this page – producing accurate quotes that you can count on.
The auto transport industry, especially as it exists online, can be separated into three parts: Brokers, Carriers, and Lead Providers. Auto shipping brokers book the overwhelming majority of the orders. They are on the phone with the customer or have an efficient online quote generator and ordering process (ours is best). Auto transport brokers need the carriers to haul their customer's vehicles. The car carriers are usually independent owner operators (several thousand of them) on the road and unable to fill their truck space themselves. Carriers need the auto shipping brokers to do that. It is actually a very efficient system. No carrier company could even begin to service the entire country. It would be impossible. So the only efficient way to manage it is by having the brokers post their orders, called loads, on a central board. The carriers know to go there to fill their empty truck space for whatever route they are planning. Broker meet carrier. Carrier meet broker. Result is the customer receives good service. Well, that is if the auto shipment is priced properly.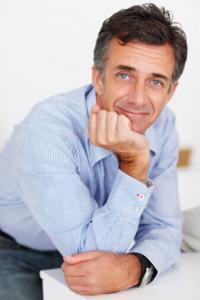 Then comes the car shipping lead providers masquerading as auto transport brokers online with websites that mimic broker sites. The automobile shipping lead providers sell the visitor's information for $1 to $3 per lead. Multiply by 5-10 desperate car transport brokers and the lead provider will typically earn $10 to $20 per visitor. Some lead providers are upfront about it, informing the visitor that they are a multiple quote service and will send several competitive quotes via email. It sounds okay until it actually happens. The customer fills out a lead form and innocently provides his email address, and even worse his phone number! Mistake. Big mistake. Then the customer gets bombarded by obnoxiously aggressive auto shipping brokers who phone call incessantly and fill up his/her inbox with scores of messages. The car shipping brokers tend to trash talk their competitors to scare the customer. Before you know it, the entire car shipping industry seems suspect. Well there are lots of sharks in the water, so buyer beware.
Knowing that they are competing against other auto shippers on the exact same lead providers list, those car shipping sharks often low ball their price in a classic bait and switch. The customer is then left dazed and confused, stuck with a too low to ship price and lots of stress ahead. That is the dark side to the auto transport business and unfortunately it is not likely to go away. The best advice we can give is to not ever provide your email address or phone number until you are actually booking a shipment. Carefully consider your options and choose an auto transport broker that does not buy leads (like us) and you have probably found one that is not desperate and will provide accurate shipping quotes. Don't book with any website where the auto shipping brokers know the customer is comparing several quotes at once. The downward pressure on auto shipping quotes on those sites is tremendous, and the truck drivers who actually do the work are likely to turn their nose up at that business. Carriers do not have to pick up any vehicle and won't if the price does not conform to market rates. Multiple quote sites most often do not conform. For those reasons, the cancellation rates for multiple quote lead orders is horribly high, reportedly over 50%. That percentage of failure works for a baseball hitter and practically nobody else.
By the way, Direct Express Auto Transport ships nearly 85-90% of customer orders within one week of availability. We are one of the best, maybe the best in the auto transport industry. And we do not buy leads!
What To Expect In The Autumn of 2018 (September, October & November) For Car Shipping
After the Summer rush of families relocating, college students returning to school and more people buying and selling cars in the good weather, the auto shipping industry calms down and takes a bit of a breather. Things tend to go
To What States Do Auto Shipping Snowbirds Flock?
Where do snowbirds go? Any place warm, preferably with a beach! Florida, California, Texas and Arizona are the top snowbird destinations. However, there are plenty of vehicle shipping snowbirds flocking to Nevada (Las Vegas), New Mexico, Louisiana, and the Gulf Coast of Alabama and Mississippi too. Florida is undoubtedly number one as it has become synonymous with the word "snowbird". According to a study conducted by the University of Florida, nearly a million "snowbirds" migrate to Florida for the winter. The numbers increase significantly every year. Some of those folks keep a vehicle in Florida year round just for the winter months that they are there, some don't need a car very often and forego it altogether, but hundreds of thousands of snowbirds choose to ship a car south for the winter. The same holds true for California, Texas, Arizona and elsewhere. Our innovative and first of its kind auto transport quote calculator provides the most accurate rates in the industry. In March, the Snowbirds begin their migration home.
March, April and May: The number of vehicles waiting to ship nearly doubles! That means orders are 200% of normal capacity. Far more vehicles are waiting to ship than carrier space available. Most are heading to the northern states. So can you guess the vehicles shipping first and which ones sit and wait? The higher priced vehicles, called "loads" in the auto transport industry, generally will ship first. Money talks. We know that and therefore price our customer vehicles toward the top. Even being in the middle of the pack is a cause for concern. Customers of course gravitate to lower prices, but those auto transport brokers have extraordinarily high cancellation rates of upwards 70%, and eventually end up at our website or calling us to get a proper quote. Unfortunately those folks waste time and endure stress not getting it done right the first time, but how could they know? We don't mess around and our customers get shipped among the first. Our customer reviews speak to that.
The customers who are trying to do an otherwise normal shipment, say from Boston to St. Louis, can find their shipment delayed. Why? The carriers can fill up easily heading to Florida instead, and will hustle back to do it again. So the mad snowbird post holiday rush to Florida and elsewhere warm has a ripple effect across the entire auto shipping industry.
SummerTime: As busy as the Spring is in the car shipping industry, the Summer is still busier. More on that in June.
Best Car Transport tip for Spring 2018 … pay more not less. You will be glad you did.
Direct Express Auto Transport originated the instant online car shipping quote calculator. We have the lowest cancellation rate in the industry because our system for pricing vehicles is better than any other cheap knockoff out there. You cannot go wrong choosing Direct Express!
Never-the-less, it is important to remember that on any given day during March,  2018, there will still be several thousand vehicles waiting to ship. By April and May it's likely to be tens of thousands. All of those vehicles are competing with one another for precious auto transport truck space. Our good advice to you booking an order is to consider adding a tad more money. You are competing after all and sometimes just $50 extra makes a big difference. Our first of a kind car shipping quote calculator does a spectacular job of adjusting Fall car transport pricing and gives you the customer the option of Expedited and Rush rates. That is exactly the sort of thing that will help alleviate customer stress and get your vehicle on the road this Spring. Book it securely online or call our customer service representatives at 800-600-3750.
Auto Transport's Best Cities Shipping A Car To & From
What are the best cities for auto shipping? The answer is wherever the most people are living. Here are Direct Express Auto Transport's top 50 metropolitan statistical areas for car transport shipments:
1. New York, New York (NY)
2. Los Angeles, California (CA)
3. Chicago, Illinois (IL)
4. Washington – Baltimore – Arlington area (DC, VA)
5. San Francisco – Oakland – San Jose, California
6. Boston, Massachusetts (MA)
7. Philadelphia, Pennsylvania (PA)
8. Dallas – Fort Worth – Arlington, Texas (TX)
9. Miami – Fort Lauderdale – Port St. Lucie, Florida (FL)
10. Houston, Texas
11. Atlanta, Georgia (GA)
12. Detroit – Warren – Ann Arbor, Michigan (MI)
13. Seattle – Tacoma, Washington (WA)
14. Riverside – San Bernardino, California
15. Phoenix – Mesa – Scottsdale, Arizona (AZ)
16. Minneapolis – St. Paul, Minnesota (MN)
17. Cleveland – Akron – Canton, Ohio (OH)
18. Denver – Aurora, Colorado (CO)
19. San Diego, California
20. Portland, Oregon (OR)
21. Orlando – Daytona Beach, Florida
22. St. Louis, Missouri (MO)
23. Tampa – St. Petersburg – Clearwater, Florida
24. Pittsburgh, Pennsylvania
25. Sacramento, California
26. Charlotte, North Carolina (NC)
27. Kansas City, Missouri
28. Salt Lake City – Provo – Orem, Utah (UT)
29. Columbus, Ohio
30. Indianapolis, Indiana (IN)
31. Las Vegas – Henderson, Nevada (NV)
32. San Antonio, Texas
33. Cincinnati, Ohio
34. Milwaukee – Racine – Janesville, Wisconsin (WI)
35. Raleigh – Durham – Chapel Hill, North Carolina
36. Nashville – Davidson – Murfreesboro, Tennessee (TN)
37. Austin, Texas
38. Virginia Beach – Norfolk, Virginia
39. Greensboro – Winston-Salem, North Carolina
40. Providence, Rhode Island (RI)
41. Jacksonville, Florida
42. Hartford, Connecticut (CT)
43. Louisville, Kentucky (KY)
44. New Orleans – Metairie, Louisiana (LA)
45. Grand Rapids, Michigan
46. Greenville – Spartanburg, South Carolina (SC)
47. Memphis, Tennessee
48. Oklahoma City, Oklahoma (OK)
49. Birmingham, Alabama (AL)
50. Richmond, Virginia
Do not worry if your city or town is not in the top fifty U.S. cities for car shipping services. We have to cut it off somewhere and there are scores of big towns that just missed making the list. Basically, if your city is on or near a major highway and numbers in the tens of thousands, certainly hundreds of thousands, then there is an excellent chance that some auto transport driver somewhere is making his plans now to ship either to or from your area. Keep hope alive!
A Great Car Shipping Rate! Is There Ever An Opportunity?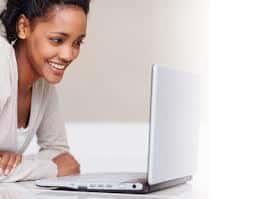 Florida is a great example of seasonal disparity in the auto transport industry. After the Christmas and New Year's Day holidays, tens of thousands of retirees who are called "snowbirds" in the vehicle shipping business, all want to ship their automobiles at roughly the same time from New England, the Atlantic eastern seaboard, Midwest and Plain states. However, there is typically far more vehicles attempting to ship in early January than the transportation system can efficiently handle. An auto transport broker can actually put any low price he wants on those vehicle shipping quotes and book a lot of business, and many do just that, but we know that the chickens will come home to roost if those vehicles don't ship timely. So it makes no sense to us not to price vehicle transport quotes at the proper market rate. Consequently, our customer vehicles are most often among the first to ship. Yea!
Similar situations arise in other parts of the year in the auto shipping business. The Easter holiday and Spring Breaks begin a flurry of shipping activity and heightened demand for truck space. The snowbirds return home in April and May. Families relocate in June, July and August and that is high season for car shippers. September is the time college kids head off to school. Grandma and Grandpa start fixin' to go south to Florida in October and continue to do so through November and December. An experienced auto broker such as Direct Express Auto Transport knows how to handle the changing seasons and schedule vehicle pick-up.
In the example above, imagine being the guy who is doing the reverse and shipping from Florida in January. Going the opposite way and swimming against the tide, to use a metaphor. There would be a smaller supply of cars in Florida leaving in the winter, and therefore with heightened carrier demand, far too short a supply. That will serve to push down the price for car shipping services dramatically. The customer in Miami, FL can probably get exceptionally fast car shipping service to New York or Boston at nearly half the normal rate. How about that! Our car transport quotes calculator automatically transitions for that scenario, which is classic supply and demand economics.
There are also certain cities that it just seems like the orders ship faster almost year round. Our favorite places to ship in or out of are Los Angeles, Dallas, Chicago, Atlanta and San Francisco. We wish we could include New York City, but there are some boroughs that are just plain tough. We discuss that more in depth on our states page. We avoid international auto shipping because the customs paperwork and financial logistics are too cumbersome.
Auto Shipping FAQs – What You Need To Know
Direct Express Auto Transport gathered together a very helpful list of what to do, what to expect and how to prepare for auto shipping. It's too exhaustive to place on this page, but we think you will find it valuable. Go to our FAQ page for that. Our clients find on that support page lots of good tips to rest easy. Whether you are shipping your cargo Open / Enclosed, operational (running) or non-operational (non-running), or going nationwide or relatively local, you should receive a free quote without a lot of additional headaches. When you request a quote, our calculator determines how large your vehicle is and prices it accordingly. Size is important to any dedicated auto shipper. It's info that you can trust is factored into every quote to ensure accuracy. Direct Express Auto Transport also offers three auto shipping rate levels: Standard, Expedited and Rush.
Auto Transport Reviews – Why We Are A Five Star Company
Direct Express Auto Transport consistently earns high auto transport reviews, usually five stars on TransportReviews, TrustPilot and Google+ Plus. Some reviewers are offered a small rebate on their deposit, which is not tied to their rating score nor price, as an incentive to share their experience. The thing to remember is that we ship over 10,000 vehicles annually, and while not perfect, we have an amazing track record of success. Our vehicle transport quote calculator does such a fantastic job of providing accurate quotes that we simply have a much higher percentage of satisfied customers. It also helps that Direct Express Auto Transport has an experienced staff of customer service representatives. We care and it shows. Call us today at 800-600-3750!