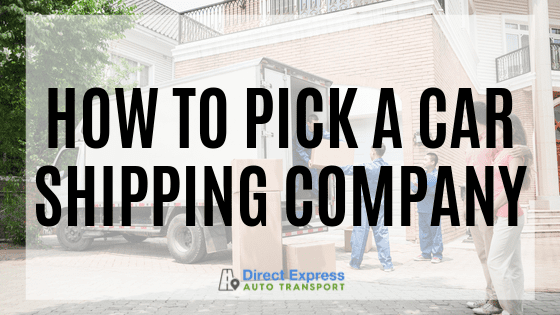 How to Pick a Car Shipping Company
When shopping for car shipping companies, you should stick to one rule above all else. Do your research. Plain and simple. Find a company that is reliable, affordable, communicative, and makes it easy on you throughout the entire car shipping process. Aside from any property, you might own, your vehicles are likely your big investments. Whether you're a hobbyist, a vehicle owner moving to a different state, or an internet car shopper, transporting vehicles is a big undertaking that should be administered by professionals who know what they're doing. With so many auto transport companies selling themselves on the internet today, it can be difficult to differentiate the good ones from the bad ones. Start your research here.
Tips for Selecting the Best Auto Transport Company
As you begin sifting through your list of potential car shipping companies, there are a few good and bad signs you should know to look for. Being aware of these signs will be instrumental in helping you dismiss the bad auto transport companies and move forward with the good ones.
Signs of Good
Auto Transport Companies
Timeliness and professionalism. Choose a company that is known for their timeliness in both their drop offs and pick-ups. Read reviews to see what customers are saying about companies' scheduling, keeping in mind that not every transportation assignment is going to be perfectly on time with every order. Traffic doesn't always cooperate, and like smaller vehicles, freight trucks sometimes encounter complications. What separates good car shipping companies from bad ones is how they react when the schedule changes. A good company will contact you immediately when a change in schedule occurs; a bad one will leave you frustrated and wondering where they are at.
Excellent customer service throughout the entire process. A car transportation company that has customer service representatives that are knowledgeable, friendly, and available to answer any of your questions at any stage of the transportation process is a valuable asset. Go with a company whose customer service representatives are able to contact their truckers so that you know exactly what's going on with the transportation of your precious cargo. Car transportation companies that give you the ability to speak with humans are always a better choice in terms of service.
Comfortability with working on short-term deadlines. You don't want to wait weeks or months to finally get your car after buying it from a dealer in a different state. You want that car getting loaded up that same day — the next day at the very latest — so choosing car shipping companies with large, high-functioning fleets is recommended for anyone who wants to make sure that their car is getting on the road in a matter of hours instead of weeks.
Signs of Bad
Auto Transport Companies
Upselling you on extras that you don't need (or shouldn't need). If you're looking to transport a standard car that's not exotic or highly valuable, then you don't need to spend extra money on an enclosed trailer. Steer clear of auto transportation companies that try to make you purchase additional insurance on top of the base charges, just to make sure that your vehicle is extra safe. That insurance should be included in the base price. Period. No questions asked.
Inability to adapt to difficult circumstances. If every single car shipping order was exactly the same, then you probably wouldn't need to do much research before shipping your car, because any of the scores of car transport companies out there could do the job decently. But that's not the way auto transportation works. Much of car shipping involves changing circumstances. The best in the business know how to navigate small city streets and scheduling changes, tight corners, and unique customers. Make sure the company you choose has a track record of success when shipping to and from your target areas, as well as a long list of strong reviews from past clients.
Direct Express Auto Transport: The Right Choice for Your Vehicles
With an A+ rating from the Better Business Bureau and a 94% 5-star review rating on Trustpilot, our team here at Direct Express Auto Transport is among the best car shipping companies in the country. Safe, fast, straightforward, and affordable, we've helped thousands nationwide successfully ship their vehicles. Take the guessing, stress, second-guessing out of transporting your precious vehicle with our simple and easy-to-use Car Transport Quote Calculator to see how truly affordable shipping your vehicle with us can be. You shouldn't have to sacrifice reliability, professionalism, and expert service for an affordable price tag on shipping. With our team here at Direct Express Auto Transport, you will be able to get your car safely and efficiently from point A to B without having to break the bank.
No matter what type of car you're shipping, our passionate and professional drivers are here to help deliver your vehicle quickly and painlessly. Compared with competing car shipping companies, our customer service is simply unrivaled, and we have one of the most intuitive, user-friendly interfaces out there. Follow our simple 5-step process starting with an initial quote and finishing with your car safely showing up on your driveway. If you're searching for auto transport companies, your search starts and ends here.