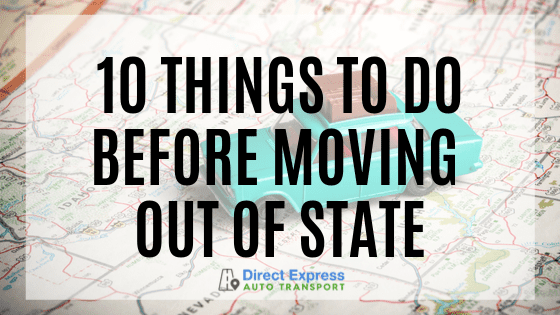 10 Things to Do Before Moving Out of State
Are you moving out of state and searching for tips to make the move go as seamlessly as possible? Check out these 10 tips from our moving experts here at Direct Express Auto Transport. We've been helping people move their cars with ease since 2004, and now we're here to help you with your out-of-state move. Get helpful moving tips from our professional team, and switch states stress-free.
Secure a Job and a Place to Live Before Moving Out of State, Not After
Securing employment and housing before moving to a new state will take major stress out of your move and your first few weeks of settling in. In most cases, you will have pay at least one visit to your new state in order to find your job and your new house or apartment. This is a good thing. You want to be confident in your choice to move to a new state before totally uprooting yourself. The job-and-housing hunt will allow you to familiarize yourself with your new area and decide, once and for all, if the new state you're considering is the one for you. Locking down a job and a place to live early on in the moving process will also majorly cut down on moving costs so that you aren't stuck in limbo once you're in your new state. Nobody wants to lose boatloads on Airbnb's or hotels — especially without a steady source of income. Get a job, get a place to live, and proceed to tip number two.
Draw Up a Budget
Speaking of money, all smart movers make budgets for their moves. Following suit will help you stay on top of your finances and eliminate (most) unwanted surprises. Don't just assume that you will pay for various parts of the move one-by-one as they come up. That's a slippery slope and will no doubt lead you to spending way more money than envisioned. Do some online research and see how much a typical out of state move will cost. This will help you make a realistic and manageable budget. It will also help you create your master moving plan.
Draft a Master Plan
To go along with the master budget for moving out of state, a master plan that includes answers to questions like: how much of your stuff can you transport on your own? Are you and your family going to be traveling by car with your goods, or on a plane? Are you going to be taking out a moving insurance policy? If so, what kind? Which of your cars are you going to need to ship and which ones are you going to drive yourself? When is the latest possible date that you can have your stuff delivered to your new house? Addressing and answering these questions before you actually attempt to move out of state will help you to put the enormity of the move into perspective. Drafting a master plan will also help keep you from getting overwhelmed by each new step and its cost, because you'll already know what's coming.
Understanding Delivery Spread Before It Leaves You in a New Place Without Your Stuff
If you've never moved out of state before, you have probably never heard of delivery spread. No, delivery spread is not the new hottest condiment for sale in super markets. Delivery spread is the range of dates that moving companies give you covering when they expect to deliver your goods. Moving companies give you a delivery spread of when they'll be dropping your stuff off at your new place, so these dates reflect door-to-door service. Don't just expect movers to drive at the same pace that a normal car would need to cover the same distance — movers are driving big vehicles, and they tend to travel slower. Make sure that the moving companies (for car transport as well as regular goods) you're considering have delivery spreads that fit into the timeframe you need for your move.
Get Rid of Things You Never Use
With most of the planning out of the way, it's now time to pack. A big part of packing is purging. Depending on how much time you have given yourself to pack up your life, you might be able to sell a some of your unneeded items on Craigslist, eBay, Letgo, or other secondhand sales platforms. If you have the time, selling stuff that you no longer need helps put money back in your pocket, a big plus when you're about to spend substantial cash on your move. If you have not given yourself a lot of time to prep for your move, your best bet for getting rid of unwanted items on the quick is to take them down to your local thrift store or donation center. Got large items that need to go and won't fit into your car? Listing these items on the "free stuff" section of Craigslist is going to be your best bet. If that doesn't work, you'll have to hire junk removers.
Pack Smart So You Can Unpack Smoothly
Like your overall move, your packing process should have a plan. Planning ahead will streamline the packing process and reduce headache from start to finish. Start with your supplies. Make sure you buy boxes of the same sizes (or same two sizes) so stacking is simplified. Also, be sure to you buy a lot of large, bold-tipped markers to mark all of your boxes. There are few more frustrating things than having to spend hours rummaging through boxes and shuttling them from room to room because they were labeled incorrectly or not labeled at all. (This frustration is even worse when it comes at the end of an interstate move.) Label to save yourself trouble, and don't forget other essentials like tape and bubble wrap to keep your boxes (and their contents) safe during your move.
Decide Whether You're Going to DIY Move or Hire Professional Movers
One of the biggest decisions that you're going to have to make as you move out of state is whether you want to hire professional movers or if you want to attempt the do-it-yourself method of moving. There are pros and cons to both methods. Each individual move is unique, so we can't give you a hard-and-fast rule on whether you should hire movers. Preferably, if you have it in your budget, it is a good idea to hire professionals to move your things. There's a far greater chance of all of your stuff getting from point A to point B safely and intact if you hire professionals to take care of your cross-country move rather than trying to handle it all yourself. Reputable movers have extensive experience helping people safely and efficiently transport their goods. They know what they're doing, and they can save you a lot of stress and strain. However, they also cost money. Usually, that expense is worth it. However, if you're moving a small amount of stuff and you already have a moving-ready vehicle at your disposal, it may be a smarter financial move to do it yourself. Our suggestion: when in doubt, hire movers.
Hire Movers You Can Trust
If you've decided to hire movers, you want to be sure to choose the right ones. Do your research, talk to friends who have been in your shoes before, read reviews on reputable sites like Trustpilot and the Better Business Bureau. See if the moving companies you're considering are incorporated through the American Moving & Storage Association. Review all companies' ratings on the Moving Company Directory at Moving.com. Thankfully, there is a large online infrastructure in place to help people just like you find reputable movers for cross-country moves. Start with these resources to narrow down your selection.
Consider Shipping Your Car
Most of us will hire movers to transport the stuff inside of our homes, but many will also need to hire a company to transport cars when moving out of state. Certain moving situations require that cars travel on their own, not driven by their owners. If you're in one of these situations, you need to work with a company you can trust to transport your car safely, efficiently, and affordably. Cars are not only big size-wise — they're also big price-wise. For many, a car is life's second biggest investment behind a home. To ensure a safe and timely delivery that won't break the bank, work with a company that's responsive, respected, and highly-reviewed. If online reviews for a vehicle transportation company keep mentioning issues with lateness, unprofessionalism, poor customer service, or damages to vehicles, then it's best to steer clear of that company. Communication and transparency are other factors to look for. Good vehicle transportation companies will be able to give you a quick and accurate quote for the transportation of your vehicle.
Update Your Address
Moving states is a major change, and you need to make sure all relevant institutions know about that change. Make a list of every single company or government branch that you'll need to notify, and make sure to do so several weeks (or months) in advance of your move. (Sometimes, red tape takes awhile to unravel. You want to give yourself a good cushion so everything is ready to go when you arrive at your new home.) Have questions? A phone call is better than an email, and an in-person visit is best of all.
Moving Out of State? Stick With the Best: Stick With Direct Express
Moving doesn't have to give you migraines. Moving your car, specifically, can be done in just a few clicks. If you are moving anywhere in the contiguous United States and looking for an affordable car transportation company you can trust, look no further than our team here Direct Express Auto Transport. With an A+ rating from the Better Business Bureau and an excellent Trustpilot rating, we have the attentive service, logistics-driven expertise, and industry-leading fleet you can count on for high-quality car transportation. Plus, we price our services affordably, and we make the process as easy as possible. We originated the online car shipping quote calculator in 2004, a full five years before any other company thought to offer it. Follow the link to get a quote in seconds, and ship your car with our trusted team here at Direct Express Auto Transport today!