Direct Express Auto Transport Services
Open Car Transport
Your vehicle is transported on an open car transport carrier much like the ones used to deliver new cars from the manufacturer to the dealers, usually 8 to 10 vehicles at a time. Approximately 97% of all car shipments are Open Transport, which is exposed to the elements such as weather. Open Car Transport usually costs about 35-50% less than Enclosed Transport.
Enclosed Auto Transport
Your vehicle will be transported in a completely enclosed auto transport trailer, usually 3 to 6 vehicles at a time. Enclosed Transport is designed to haul classic automobiles or vehicles that should not be exposed to inclement weather. Approximately 3% of all vehicle shipments are Enclosed Transport. The cost for Enclosed Auto Transport is roughly 35-50% more than Open Car Transport.
Door-to-Door Car Shipping Service
We do not use terminals where vehicles are known to sit for many weeks. We instead hire auto shipping carriers whose plan it is to ship a car door to door, or as close as possible. We know that is the fastest and most reliable method for shipping customer vehicles. Why? Because usually a door-to-door car shipping carrier is ready to get on the road right away. A terminal service must wait often times weeks to amalgamate a full load of vehicles. That's a huge difference.
Car Transport In The Continental United States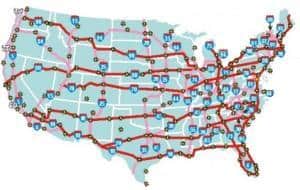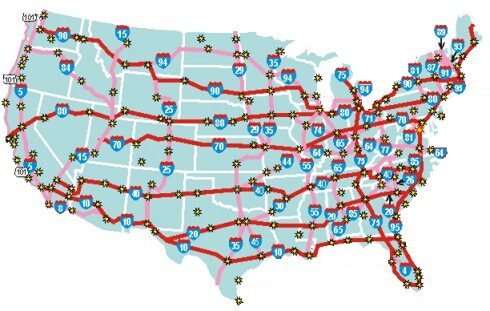 Direct Express Auto Transport services the entire continental United States. The 48 contiguous states in North America. The more highly populated metropolitan areas and regions are faster and easier to ship a car. Remote locations sometimes ship just as fast, but it is not unusual for them to take longer. To learn more about the differences between regions in vehicle shipping, please go to our Car Shipping States page.
Vehicle Condition
Running


Non-Running
The Direct Express Auto Transport statistics show that roughly 5% of all car shipments are non-running, what some term non-operational. We ship both running and non-running vehicles. It is easier to ship running vehicles because not every car carrier has a wench or can safely handle those that are non-operational. There is an added cost to shipping non-running vehicles. Our original car shipping cost calculator automatically adjusts the price for non-runners by adding $150 to the carrier fee. That compensates for the extra time and sometimes headache of positioning non-operational vehicles onto the car transport carrier.
Three Levels of Car Transport Pricing

STANDARD RATE
We determine the most competitive, basic cost to ship your vehicle. Consider it the normal, standard market rate. About 80% of the time, it works anywhere from one to ten days from the first date a customer makes it available.
EXPEDITED RATE
The Expedited Rate moves a customer slightly ahead of the pack and can make a big difference in shipping a car sooner rather than later. Auto transport carriers usually pick and choose which vehicles to transport from among dozens in the nearby vicinity. The slightly higher Expedited Rate is often times just enough to break a pricing tie or lure a car shipping carrier to pick up that vehicle instead of another. We highly recommend the Expedited Rate.
RUSH RATE
The Rush Rate is probably overboard. But that is what it sometimes takes to get a carrier to jump or drive out of his way to ship a car. It is especially effective when there is an over supply of vehicles, such as leaving Florida in the Spring. Or if a customer car is in a remote location. The higher Rush Rate makes that vehicle more attractive to the discerning car transport driver.
To learn more about our three car shipping levels, please visit Direct Express Auto Transport.