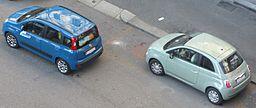 Many people, when searching for auto transport services, are looking for a company that can handle all their family vehicles during an entire household move. Moving an entire house worth of things from one side of the country to the other can be an expensive, time-consuming and stressful venture, and adding transporting a vehicle on top of that can make it even harder. That's why you want to find a company that will provide quality family auto transport services at a great rate.
But what exactly are family auto transport services? Well, it depends. Usually family auto transport services cover shipping more than one vehicle – this is what most companies view it as, and many companies will provide family auto transport discounts, usually if you let them know it's in conjunction with a household move. You will usually need to hire two different companies to handle your car and your stuff; there are few companies that have the capabilities of hauling both, as moving household goods requires a completely different type of truck than auto transportation does.
Letting your auto transporter know you are also moving household goods gives them an idea of what exactly you're looking for in your auto transport experience, and companies that work closely with families to provide them auto transportation services will usually advertise it right up front. Discounts tend to follow for families shipping vehicles, especially if they're transporting more than one vehicle at once, as they can also provide multiple vehicle discounts (or one or the other, depending on the company that booked the order). If you're interested in transporting your vehicle for your family, you can fill out our free online car shipping quote form and get an instant auto transport quote. You can book your auto transport order right there online or you can call our toll-free telephone number at 800-600-3750 to speak to one of our live auto shipping service representatives who can answer your questions and explain more about the auto transportation process.