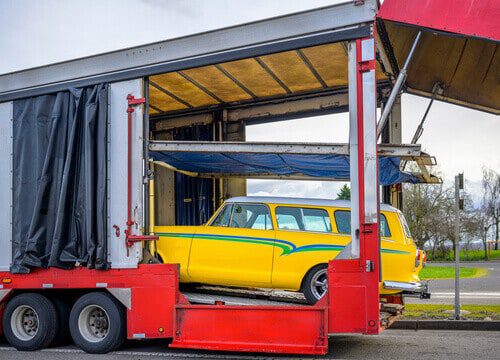 How do you get your classic car from point A to point B without exposing it to the risks of the road? Simple, you arrange classic car transport. 
It works like this: you and a vehicle shipper will arrange a time and location to meet somewhere close to the location of the classic car (how close will vary depending on your proximity to major cities and highways).
After a little bit of paperwork, you will hand over the keys to your classic car. The vehicle shipper will load it onto the vehicle trailer, secure it carefully, and then head towards whatever destination you want – the other side of the state or the opposite side of the country.
Should you rely on car shipping? It's more important than some people realize. More accessible and affordable too. Don't put the car you love at unnecessary risk. Instead, make sure it reaches its destination safe, sound, and ready to impress.
Benefits of Classic Car Shipping
Some classic car owners think of car transport as essential while others view it as advantageous. They're both right. Vehicle shipping is the only option for many exotic vehicles that can't or shouldn't be out on the road. It's also the most convenient option for people who love to show and collect cars. These are just some of the benefits of classic, collectible, or exotic car shipping:
Move Anything –

With

classic car transport

, you can ship something that runs or something that doesn't even have an engine under the hood. Running or not, vehicle haulers can get your classic car into or onto a vehicle trailer, after which it can get to any part of the country. When there's no way to

move your collectible car

on your own, rely on vehicle haulers to do it for you. 
Ride Safe –

There's no denying it: the road is a dangerous place no matter how skilled you are at driving. Anytime you expose your classic car to the roads, especially hundreds of miles of highway, you expose it to countless risks along the way. Classic cars are rare by definition, so the last thing you would want is to get in an accident.

Car shipping

doesn't make an accident impossible, but it does make one far less likely. 
Travel Clean –

Even when it's not dangerous, the road is always dirty. When you drive, you expose your favorite car to grime on the roadway, the risk of pebbles dinging the paint job, and environmental hazards like glaring sun. Not to mention the fact that cars get dirtier internally, in the cabin and inside the engine, the more they're in actual use. Car collectors know you need to drive a vehicle sparingly (or not at all) to keep it in the best condition.

Classic car transport

lets you move your auto(s) wherever you want without aging it unnecessarily. 
Handle a Fleet –

You only have one set of hands but you have multiple classic cars you want to showcase at an event.

Luxury car transport

makes it easy to move as many vehicles at once as necessary, all on one trailer or spread across multiple trailers. Vehicle logistics can be tricky – but they don't have to be with a reliable transporter. 
Travel on Your Terms –

Just because you love your classic car doesn't mean you want to drive across the country in it. Many of these cars offer limited storage and comfort, not to mention few of the features that today's drivers expect.

Classic car shipping

lets you send your vehicle to wherever it needs to go while you, your travel companions, and all your luggage/gear travel by whatever means makes most sense – plane, train, an SUV etc. 
Find Your Dream Car –

Classic car transport

goes in both directions: you can send your own vehicle somewhere

or

have a vehicle shipped to you. Once you discover how

convenient car shipping

is, you can start looking for collectible cars across the country. If there's a particular make or model you've always dreamed about, expand your search coast to coast knowing you can ship whatever you purchase to wherever you're located. 
Direct Express Auto Transport – Facilitating Classic Car Transport
Classic car shipping offers plenty of upside, but there's one major obstacle: finding a transporter you trust who can also work on your schedule. That's where Direct Express Auto Transport comes in.
We created the very first online car shipping quote calculator over a decade ago. We help more people connect with vehicle haulers – including people with classic, collectible, exotic, or luxury vehicles. 
Use our calculator to get quotes from the industry's best vehicle transporters (we vet everyone we work with). Enter your location and destination, the make and model of what you need to ship, and whether you need to ship multiple vehicles. Then designate whether you want your classic car to ride on the back of an open-air vehicle trailer or an enclosed trailer where it's protected from all the elements. 
The calculator returns quotes from vehicle haulers heading through your location on their way to your intended destination. Pick the option that works best for your budget and schedule. Just that easily, you've arranged classic car transport!
If you have any questions at any point, please call customer service at 800-600-3750 or contact Direct Express Auto Transport.