Tips for Car Transport to Cleveland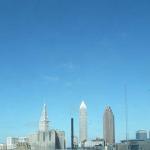 The city of Cleveland sits right in the heart of the U.S. Rust Belt, and was once a major manufacturing city before the city fell into a crippling depression when the manufacturing in the U.S. took a downward plunge. Today the city is still recovering, but at least its transportation connections are still in place; it is one of the most well-connected cities in the state of Ohio. By far the most popular auto transport route through the city is Interstate 90, which runs east-west and connects Cleveland with both the rest of Ohio and other states, to the west, and upstate New York, to the east. Carriers are more apt to travel along I-90 during the summer months, which is usually the best time to ship as more carriers run I-90 during the summer than any other time of the year.
During the winter months you may have a harder time getting a vehicle into Cleveland due to the city's inclement weather. Snow is common in the winter months, and at times can freeze the entire city, leaving everyone and everything completely immobile. It is for this reason that many carriers shy away from the city unless they are properly compensated; this usually comes in the form of higher prices in and out of Cleveland during the winter. It also doesn't help that there are less customers moving in and out of the area during the winter months, so the incentive is not as powerful during the winter as the summer for carriers to head into or out of Cleveland. Unfortunately, it's the way it is in the auto transport industry.