Car Shipping From Madison, WI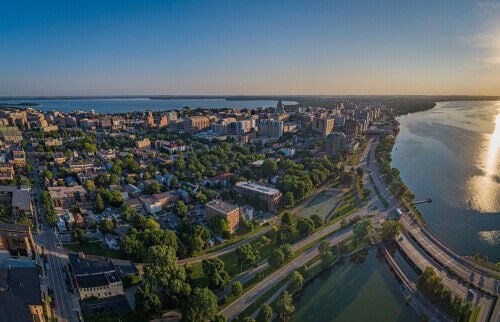 Madison is situated near the center of Wisconsin and 80 miles west of Milwaukee. It is a sometimes tough location for vehicle shipping, but nevertheless we go there frequently. Major highways are going in every direction and run through the Madison area, meaning that vehicle haulers travel to and from there all the time. It frankly takes a little longer on average when it comes to auto transport from Madison, WI. Use our Rush tier if in a hurry to lure a carrier away from Janesville, Racine or Milwaukee.
So why would you want to arrange it? There are lots of reasons, but they all boil down to the fact that sometimes you need to get a vehicle from Madison to another city or state and either can't drive it there yourself or simply don't want to.
Maybe you live in Radio Park or Shorewood Hills and plan to escape Madison's winter weather by heading south for a few months. Madison auto shipping could be the easiest way to get yourself, your stuff, and your vehicle all to your destination.
We do a lot of vehicle hauling for University of Wisconsin-Madison college students. Oh yeah, Bucky Badger is king of Madison and we know it. There is no place better to be than in the student section of a Wisconsin football or basketball game! At the beginning or end of the semester, we do a lot of college car shipping in Madison.
Another instance where car shipping in Madison Wisconsin comes in handy is when you're selling a vehicle, sending one to a friend or family member, or trying to get your collector car to an exhibition or in front of an expert. In all those cases, you would have to drive out, drop your car off, then find another way to get back home. Or you could skip the round trip completely by shipping the car instead.
Auto transport from Madison, WI gives you a way to save time, money, and miles on your odometer. It also gives you the freedom to travel as you like, both to your destination and again once you arrive since you have your own car to get around in. If the prospect of a lengthy road trip looks unappealing or proves to be impossible, go with vehicle shipping instead. You'll be glad you did.
Auto Transport to Madison, WI
Arranging auto transport to Madison, WI presents few obstacles for all the reasons that auto transport from Madison, WI is so easy: vehicle haulers go in that direction all the time. If you need to get a car, truck, van, SUV, or exotic auto to Wexford, Dudgeon-Monroe, or another neighborhood around the home of the Badgers, consider if shipping is the best option.
When you go with car shipping to Madison, you save the cost of gas, lodging, food, and vehicle depreciation. Maybe even more valuable, you avoid hours or days spent behind the wheel and cooped up in the cabin on your car. Plus, you gain the flexibility to travel however you like: by plane, train, in a different car, on a different schedule, or not at all.
Whether you plan to ship a vehicle a few hundred miles or a few thousand, one time or multiple times, in an open-air or enclosed trailer, you have options. Keep that in mind should you ever need to get a vehicle to Madison, WI for any reason. There's more than one way to get it there.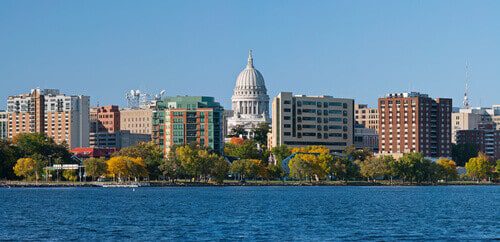 Direct Express Auto Transport
Madison auto shipping doesn't have to be confusing or difficult to arrange – not with the help of Direct Express Auto Transport. Use our car shipping quote calculator, which was the first in the industry and remains the best. It takes just seconds to enter your information and receive a list of vehicle haulers headed between your pickup and drop off locations. Then find one able to work within your schedule and budget. It couldn't be easier because we designed it that way.
Get more information before or after you get your shipping quote. Learn about the shipping services we facilitate and the states that we serve (the whole lower 48). You can also find a wealth of good information – including tips to save you time, money, and hassle – in our blog.