Wisconsin Car Shipping Made Easy

Wisconsin car shipping is made easy in the southern half of the state. The northern half? Not so much. One thing we know, nothing seems to deter the folks in Wisconsin. They roll with the punches.  If you've never been to a Badger football game in Madison, you just gotta go. The spirit there is like none other!
Car Moving To Wisconsin
The far southeastern corner of Wisconsin, encompassing the square area of Madison, Janesville, Kenosha/Racine, and Milwaukee, is by far the best place to ship a car in the state. There are approximately 5.8 million people in Wisconsin.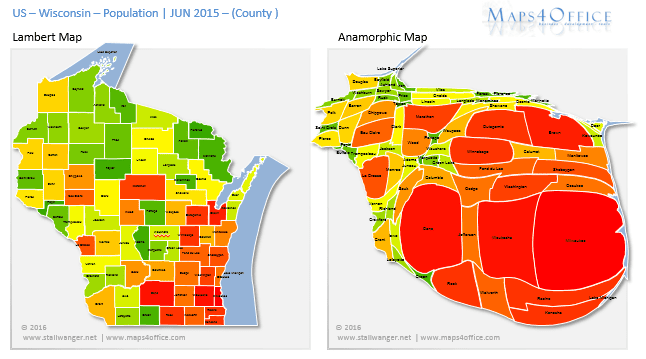 The Badger State is dotted with nice size towns that make it easier to amalgamate full auto transport truckloads of 8-10 vehicles. But the gravitational pull is decidedly to the southeast as witnessed by the anamorphic Wisconsin county map shown right.
A student of Wisconsin would see the county map to the left. But a Wisconsin car shipping carrier would view it through the lens depicted on the right. If you are that fellow, where do you think you are most likely to find 8-10 vehicles to fill up your car transport truck? So quite naturally, an auto transport company will want to head to southeastern Wisconsin, where it will also be easier to fill up again going the other way.
Auto Transport To Wisconsin
So what would lure a car transporter to the western half, and northern half of Wisconsin? The short answer is money. If each vehicle in the remote areas of Wisconsin paid say 33% more, then a carrier might make the trip if there were 5-7 cars available. Why? Because it pays the same as 8-10 vehicles going to Milwaukee or Madison. He would be especially happy if there actually were 8-10 vehicles going to Wausau and nearby. For him, that would be a perfect world. But in reality, it rarely happens and it is the extra carrier fee that lures him ever north or west.
Sticking with the good news, however, Wisconsin car shipping to the southeastern corner also benefits by its proximity to Chicago, from Milwaukee only 90 miles. Chicago is the third largest city in America. Milwaukee has roughly 600,000 residents and is an excellent auto shipping destination.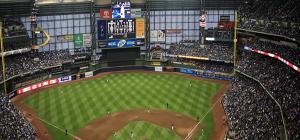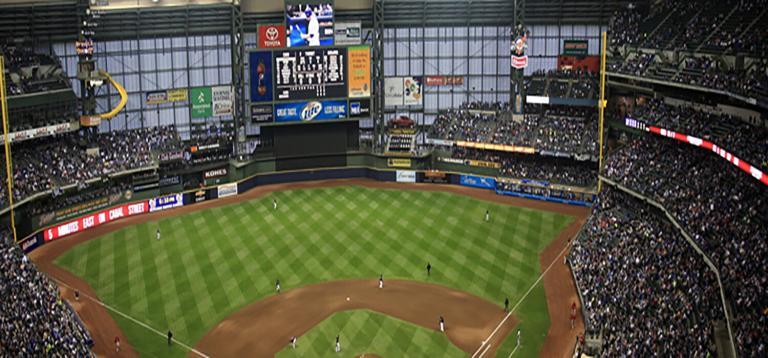 Both I-90 and I-94 come north from Chicago before veering westward. I-90 heads toward LaCrosse and then to Rochester, Minnesota. And I-94  reaches farther north to cut across the state to Eau Claire and then Minneapolis-St. Paul. So the southern half is very well travelled and easy for car shippers to arrive.
The real problems for Wisconsin car shipping occur in the winter months. When it gets frigid cold and deep in snow from its proximity to the Great Lakes, Wisconsin almost shuts down in certain northern places. Anything above Oshkosh, Green Bay and Eau Claire seems off limits in the winter months. That is most definitely something for those customers to keep in mind when trying to ship a car. What happens is that first there are fewer vehicles wanting to ship, which cuts down on supply. Secondly, the carrier hydraulics may freeze, making it impossible to load or off load vehicles. Lastly, hazardous road conditions raise the liability concerns for most in the auto transport industry.
When it's not winter, however, and the weather is mild or even hot, Wisconsin is a great place to ship your car! You can visit Direct Express Auto Transport to fill out a simple form and get a free car shipping quote. We make it easy to book your vehicle shipment online.