Knoxville, Tennessee Auto Transport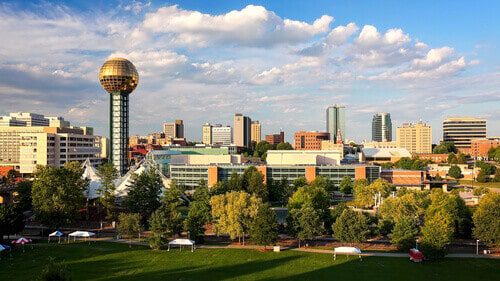 With Auto transport from Knoxville, Tennessee, you're free to travel on your own terms. That might sound counterintuitive at first – How do your travel plans get easier when you don't have a car? But think about it like this: When you don't have to be responsible for getting your vehicle from one place to another, you can focus on your own convenience and comfort.
Here's a couple of examples that illustrate how car shipping from Knoxville, TN makes life easier for people in Blue Grass, Rocky Hill, Lonsdale, Kingston, or any other part of the area:
If you're moving from Knoxville to another part of the country and have more vehicles than you have drivers.
If you're going for an extended vacation or work assignment elsewhere and want to have your own vehicle to drive but don't want to drive it there yourself. The vehicle hauler handles the long miles on the road while you reach your destination by plane, train, or other means.
If you're gifting or selling a car to someone in another state and don't want to drive it there yourself and then get back home.
If you're involved with car collecting and exhibiting and want a safe, secure, and convenient way to get a prized automobile somewhere. Shipping protects the auto from the hazards and wear and tear it would face by driving.
Sometimes you want to take a road trip – but lots of times you don't. For all those instances when you wish someone else could deal with your vehicle – picking it up close to your front door and dropping it off in any of the lower 48 states – turn to auto transport from Knoxville, TN.
It's easier than you think and more affordable than you expect. It could be the most convenient option too.
Car Transport to Knoxville, TN
Auto shipping with Knoxville as the destination can be just as convenient, and for all the same reasons. No matter where you're located in the lower 48 states, vehicle haulers are traveling through your area on a regular basis on their way through the greater Knoxville area. Getting your car to Mechanicsville, West Hills, or South Knoxville is as simple as arranging a pickup with a vehicle hauler.
They pick it up and get it to Knoxville on the back of a vehicle trailer or inside an enclosed trailer. Meanwhile, you spare yourself the road trip and make whatever travel arrangements work for you. If you need to get a vehicle to Knoxville for any reason, don't overlook the option to ship it there instead of driving it there. You could save time, money, stress, and wear on your vehicle. To put it differently, shipping could make A LOT more sense than driving.
Direct Express Auto Transport – Making Auto Shipping Easy
Our car shipping quote calculator makes it easy to arrange vehicle shipping to or from Knoxville TN. You don't need to enter any personal information to instantly get quotes from multiple vehicle haulers willing to take your shipment. Our service also doesn't cost you anything or obligate you to commit to shipping. Get a quote just out of curiosity if you like.
Here's a breakdown of the shipping services we offer and the states we serve. If you have questions about what we do or how the auto transport process works, consult or blog or contact us.