Sioux Falls, SD
Sioux Falls, South Dakota with a population of 168,586 as of the 2014 census is a town of similar size to Fargo, North Dakota, which is straight up I 29 to the north. Fortunately for Sioux Falls, it is on I 90 as opposed to I 94, which makes it a tad easier to ship vehicles. But not much. That's because once you get into the upper Midwest things get spread out pretty far and you don't have the concentration of good size towns that will attract lots of auto transporters.  So while Sioux Falls, South Dakota is a good-sized town on its own, it nevertheless is not quite big enough to command our typical 1 to 7 day window. Sometimes it happens and sometimes it does not. And there's no telling at the time of setting up an order which it will be. All you can do is throw your hook into the water and hope for the best. With our state-of-the-art auto transport quote calculator we give our customers the best chance of that happening. We try to lure car shipping carriers away from Sioux City to the south or elsewhere within a 50 mile radius. Oftentimes the carrier is as happy to see you as you are to see them.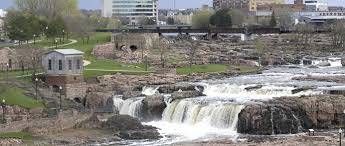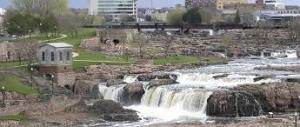 Like we said … in Sioux Falls, South Dakota I 29 runs north-south right through the western side of town. On the north side is I 90 which runs straight across East to West. Then we have I to 29 which creates a sort of box effect around Sioux Falls. You might think it's a cute little town, but in South Dakota it's the big city. Hey the Empire Mall has it all.  South Dakota's state Route 42 and 115 intersect in the center of town.
The Big Sioux River cascading nearby  were created nearly 14,000 years ago during the last Ice Age Numerous Native American Indian tribes have been drawn to its shore. The Ho-Chunk, Ioway, Otoe, Missouri, Omaha, Kansa, Osage, Arikira, Dakota, Nakota and Cheyenne Indians have all had their turn on the river. Some of those tribes still exists there today …  and how cool is that? Did you know that David Soul from the hit television show Starsky & Hutch is from Sioux Falls?
Here's the thing, you gotta ship your car with somebody, right? And it might as well be with an auto transporter like us that shoots straight, doesn't tell you what you want to hear, and just gives you the best chance to get it done. Could be in one day that it gets assigned a carrier. But it could be a week. And nobody has a better chance either way than us. Check out our original instant online car transport quote calculator right here on this page!
[google_map]Sioux Falls, SD[/google_map]
More helpful links about Sioux Falls, SD