Car Shipping from Pittsburgh, PA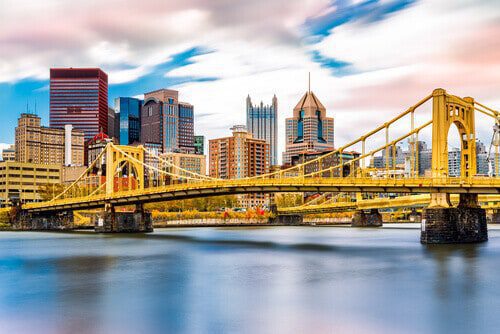 Here's a common scenario: You live in Pittsburgh, Pennsylvania but plan to spend an extended amount of time elsewhere for work, vacation, school, or some other reason. You have a car you want to use at your new destination, but the prospect of driving it from Pittsburgh to a location hours or days away sounds daunting. So what do you do? How do you get your vehicle from Pittsburgh to elsewhere without driving it yourself?
The answer is simpler (and more affordable) than you might think. When car owners in Point Breeze, Shadyside, or other neighborhoods around Pittsburgh need transportation, they rely on America's vehicle haulers to quite literally carry the load.
Even if you've never arranged car transport from Pittsburgh, PA before, you've surely seen vehicle haulers on the highway before. The cars on the back of the vehicle trailer often belong to private individuals like you who have considered their options and decided that shipping makes more sense than driving.
Why? For one, you don't have to spend the time and money driving across large parts of the country, or put hundreds upon thousands of miles on your car. This shipping option also lets you stay in Pittsburgh if you're trying to send a car to someone else. Above all, Pittsburgh car transport gives you options when normally there are none.
Car Shipping to Pittsburgh
As a regional hub situated at the intersection of several major highways, Pittsburgh welcomes multiple vehicle haulers on a daily basis. They've been contracted by car owners in other parts of America to drop vehicles off in Squirrel Hill North, Highland Park, Shadyside and other parts of Pittsburgh.
Car shipping to Pittsburgh proves to be just as convenient as shipping from the Steel City. It works the same as well: find a car hauler willing to take the shipment, then hand off the keys and complete the paperwork at a location close to where the vehicle originates from. Compared to spending endless hours behind the wheel, car shipping feels almost effortless. And when you compare the numbers, shipping often costs as much or less as an extended road trip.
If you ever find yourself wanting or needing to get a vehicle to Pittsburgh, for any reason, do yourself a favor and consider car shipping. Sometimes it's the best option, other times it's the only option. Where does it fit into your travel plans?

Direct Express Auto Transport – For Pittsburgh Car Transport
When you need to arrange car shipping to or from Pittsburgh, Direct Express Auto Transport makes it easy. Rely on our car shipping quote calculator to explore the rates and schedules of vehicle haulers headed from your part of the country to wherever you want your car, truck, van, SUV, or collect auto to end up. Our service costs nothing to use, and you're not committed to anything when you request a quote.
If you have questions about car shipping, consult our blog, and if you have questions about us, consult our bio. For more information about anything, please contact us.