Portland Car Shipping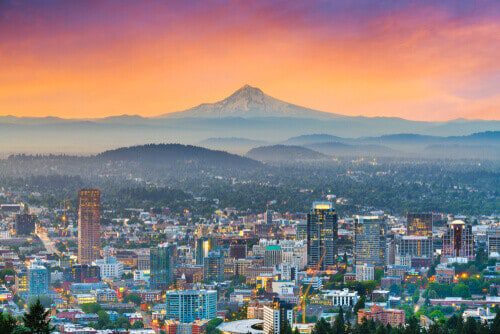 What's the best way to get a vehicle from Portland to another part of the country? Sometimes the answer is to pack up yourself, your luggage, and any family or friends coming along. But sometimes a road trip in a packed car over hundreds or thousands of miles sounds less than ideal.
Fortunately, driving isn't the only option. Car shipping from Portland, Oregon to anywhere else in the lower 48 states is also an option – and often the best one.
When you ship a vehicle, you get to skip the long drive, which may be a bigger deal than you realize. By putting your vehicle on the back of a vehicle trailer driven by a professional, you save tons of money in travel costs (gas, food, lodging etc), prevent wear and tear on your car, and get to avoid hours or days spent staring at the road. Portland auto transport may prove to be the most efficient, economical, and easy way to get any make/model wherever you want it to land.
Drivers in Goose Hollow, Knob Hill, Pearl District or anywhere else in Portland have vehicle transporters traveling through their area every day. Finding one to transport your car, truck, van, SUV, or collector car doesn't have to be a hassle – rely on Direct Express Auto Transport to help you arrange vehicle shipping in Portland, OR 365 days a year.
Auto Shipping to Portland OR
Maybe you're moving to Portland. Or you could be sending a classic car to an auto show. Perhaps you have a kid in college in the area or found someone around Portland to buy a vehicle you want to sell. In all these examples, it's more convenient to rely on car shipping to Portland than to rely on your own driving abilities.
The good news is that the Pacific Northwest is a popular destination for auto shipping, so you should have no trouble finding space on a trailer headed towards Portland. Then, you can either meet the carrier in Lake Oswego, Hillsboro, Gresham, Beaverton or some other neighborhood, or you can choose to have someone else receive the shipment while you remain at home. Even Vancouver, Washington counts itself as part of greater Portland, so don't forget about that.
Car transport to Portland spares you the logistical hassles of getting a car from one place to another. It also saves you the expense of travel, the danger of being on the road, and at least a day of your time. No wonder so many average people (not just car salesmen or collectors) use Portland auto transport as their preferred method. 
Direct Express Auto Transport
You can see the advantage of car shipping to or from Portland Oregon, but how do you arrange a shipment? That's where Direct Express Auto Transport comes in.
Back in 2004, we created the internet's first car shipping quote calculator, and it remains the industry gold standard today. Enter a few basic details about where, when, and what you plan to ship. Then you instantly receive a list of top vehicle haulers who are willing and able to pick up and drop off your vehicle. Now pick the best option based on your budget and schedule, and the hard part is complete!
Learn more about the shipping services we facilitate, and explore tips and trips related to those services in our blog.