Auto Transport in Oregon
Beautiful Oregon is bordered by Washington to the north, Idaho to the east, and both Nevada and California to the south. Its entire western flank is on the Pacific Ocean, making for some remarkable scenic coastlines. The western third of the state, hugging the Pacific, gets plenty of rain and hosts incredible waterfalls and forests with tall Redwood trees. Beyond this state's boundless outdoor beauty, there are many reasons to visit Oregon or move there! And sometimes the opportunities or circumstances of life draw you away from this lush, quirky state. But no matter what life calls for, short or long term, you'll need your car — Direct Express Auto Transport makes sure car shipping in Oregon is easy so you can explore this impressive state.
What Does Oregon Have to Offer?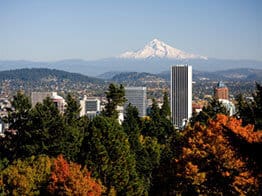 It's no secret that Portland is a fun and quirky place to live and visit. After all, it boasts the world's smallest (two square feet!) park, Mills End, which is allegedly home to a colony of invisible leprechauns. How awesome is that? But what else does Oregon have beyond Portland?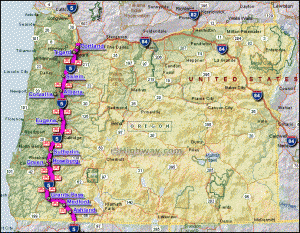 Lake Oswego, just south of Portland and about 45 miles north of Salem lies squarely between I-5 and 205. Its central Oregon location means it's easy to head west to the coast or east to the mountains for a day of incredible experiences in nature. But you needn't head too far to bask in beauty. The hiking opportunities are plentiful. Not to mention the Gallery Without Walls, a free, year-round outdoor sculpture exhibition.
No, it's not misspelled and yes, they also make great beer. But you'll find a lot more than just a good craft brew in Milwaukie, OR. Southeast Portland is also home to Bob's Red Mill and great kayaking and other outdoor activities along the Willamette River.
Head southwest from Portland instead and check out the articulated mastodon at Tualatin's public library. Want more than 14,000-year-old bones of extinct animals? Hiking and biking along the many trails and shopping at Tualatin Commons are other fun activities to do while you're in town. The best part of the shopping? Oregon is one of the few states with no sales tax! This is just another reason to ship your car to Oregon…load it up for the trip back home!
A little further down the road, you'll encounter the quaint and quiet village of Sherwood. But don't let this small town along Highway 99 fool you. It's only 30 minutes from Downtown Portland, yet far enough away to boast its own culture. Go antiquing among the boutique shops, responsibly enjoy the dozens of wineries, and indulge in the fresh produce found in the fertile soil. And yes, like much of Oregon, it boasts plenty of incredible outdoor opportunities.
But if you really love the outdoors, Bend, OR will quickly have your heart. Near highways 20 and 97, this city is an outdoor enthusiast's paradise for year-round fun. Mountains, forests, rivers, and golf courses, you can ski, hike, bike, paddle, golf, and more every day of the year.
Or relax and soak in the history and flowers found in Canby. Year-round festivals mean there is always something new to discover — not to mention the delectable artisan chocolateries and wines found here.
Oregon Car Transport
Now that you can't wait to head to Oregon, it's time to figure out the best way of auto shipping to Oregon. Using the calculator feature from Direct Express Auto Transport is the simplest way in the industry to get a free quote and book your transport online. Need to know more? Reach out to us at 800-600-3750 to speak with our very friendly and helpful customer service staff or check out our blog for more information.
Oregon Auto Transport
View Larger Map