Oklahoma City Auto Transport
Why would you want to ship a vehicle from Oklahoma City to another part of the country instead of driving it there yourself? Lots of reasons. In fact, car transport from Oklahoma City frequently proves to be the best option – that's why people who try it once often try it again.
One common reason people ship vehicles is because they're moving away from Oklahoma City and need a reliable way to get all their cars to their new home. Vacations are another reason. Someone wants a car at their vacation destination but doesn't want to rent one, especially for an extended stay. But they might not want to drive there either. Auto transport from Oklahoma City lets that person travel as they please – to their destination and around it too. Maybe you're selling a vehicle, sending a collector car to an auto show, or providing something to drive to a friend or family member: these are all great reasons to ship a vehicle from Deer Creek, Deep Deuce, or another neighborhood around Oklahoma City.
Fortunately, everything about Oklahoma City auto shipping works easier than you expect. Finding a qualified vehicle hauler who will pick up and drop off your shipment on the schedule you need for a price that fits into your budget sounds like a huge hassle. But it doesn't have to be – make it simple with Direct Express Auto Transport.
Car Transport to Oklahoma City
Every day, vehicle haulers drop auto shipments off in Nichols Hills, The Paseo, Edmond, Moore, Norman and other locations in and around Oklahoma City, for all the same reasons outlined above. People move there, vacation there, work there, or know someone in Oklahoma City that needs or wants to buy a car. Driving there looks daunting because of the time, cost, and the wear and tear it puts on the vehicle. Since car shipping to Oklahoma City eliminates all those concerns, it's the best choice for many drivers throughout the country.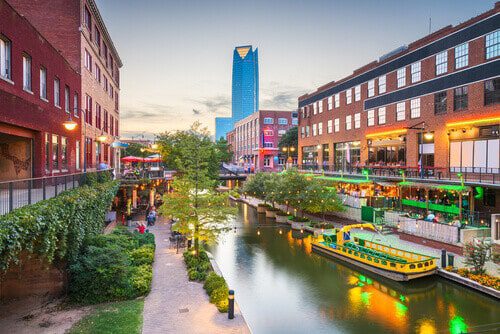 Remember, you have options for getting a vehicle from anywhere in the lower 48 states to anywhere around Oklahoma City. Before you commit to a lengthy road trip or subject a car you love to the unnecessary dangers of the road, consider auto transport to Oklahoma City instead. When it's easy to arrange and affordable to access, shipping your car could relieve a lot of your transportation challenges while freeing you up to travel as you please.
Direct Express Auto Transport – Serving Oklahoma City
Whether you're ready to set up a shipment or just curious about your options, the next step is to seek out vehicle haulers willing to transport your vehicle to or from Oklahoma City. Use this car shipping quote calculator from Direct Express Auto Transport to connect with multiple haulers in a matter of moments. Using the calculator costs you nothing and commits you to nothing – we don't even ask for your personal information. Just tell us what you want to ship, when and where. Our calculator will take it from there and show you an array of options for vehicle shipping. It couldn't be easier.
Before or after you use the calculator, learn more about vehicle shipping services and how shipping works across the country. Find even more information in our blog.