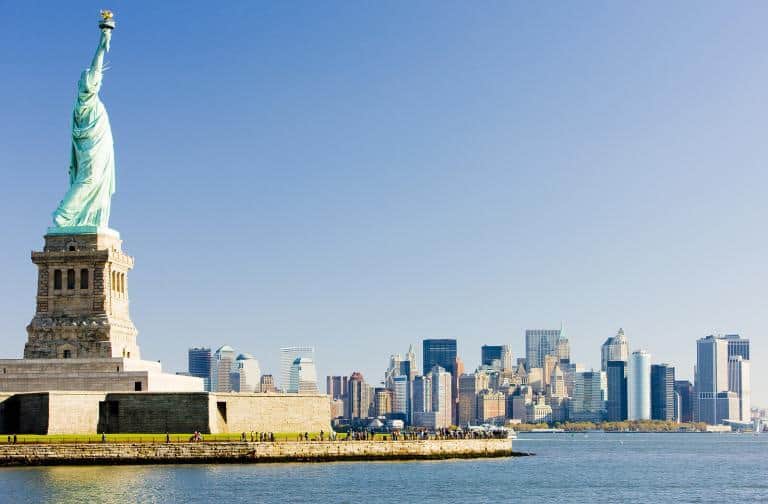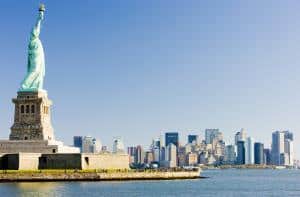 The Big Apple, the city that never sleeps, the city so nice they named it twice. New York City is unlike any other place in the country. Situated closer to Connecticut and New Jersey than upstate New York, it has a personality and culture all its own. I-95, which runs the length of the Atlantic Seaboard from Miami to the Canadian border in Maine, slices through several major metropolitan areas. NYC is the biggest of many major cities that make car shipping along the I-95 corridor so efficient. 
Car Shipping Service to New York City
New York City comprises five boroughs that include Manhattan, Queens, Brooklyn, Bronx, and Staten Island. They are connected through ferries, interstates, bridges, exceptional 24-hour mass transit, and other logistical feats of genius. And while it's easy to assume using taxis, rideshares, or public transportation is the only way to get around, nothing could be further from the truth. Our favorite – a bike! But alas, New York City is bustling with cars, and sometimes they need to be shipped.
Manhattan
When most people think of "New York City," they're actually thinking of Manhattan, one of the boroughs. This is the second smallest in land area, but the most densely populated county in the nation. In approximately 23 square miles of land, 1.6 million residents call it home. And it's no wonder. Manhattan is home to the United Nations, Wall Street, and the New York Stock Exchange, as well as tourist draws like Times Square, Broadway, Central Park, Rockefeller Center, and cultural phenomenons like the Metropolitan Opera and numerous world-class museums.
Queens
New York City includes other boroughs, such as Queens. Just across the East River, Queens is the largest borough in land area and second-largest in population. This small pocket of land, 109 square miles, boasts both JFK and LaGuardia airports, two of the busiest in the world. It's also home to the most ethnically diverse urban area in the world, with people speaking over 138 languages and from 100 different nations. And if baseball is on your list, don't miss the Mets, who play in the Flushing Meadows neighborhood of Queens.
Brooklyn
To reach Brooklyn from Manhattan, you can certainly take the iconic Brooklyn Bridge. But there are other ways, including toll roads that permit transports. Brooklyn is also rich in history and cultural heritage. But where the vibe in Queens is definitely a melting pot, Brooklyn offers ethnic enclaves. You can find yourself in neighborhoods that are predominantly Puerto Rican, Russian, Italian, and more. And this means you can also find unique, authentic eateries and shops you likely would never find elsewhere…except their country of origin. Hanging out in Brooklyn gives you the opportunity to visit numerous cultures from around the world in 71 square miles. Maybe that's why Brooklyn is the most heavily populated borough in NYC.
Bronx
If you were visiting or calling The Bronx home, but now it's time to head to another state, the convenience of I-95, FDR drive, and interstate loops like 295 will help you move your vehicle back across either the Harlem River or The Bronx River, depending on where you're going. But while you were in The Bronx, as one of its 1.4 million residents or a tourist, hopefully, you were able to enjoy such offerings as The Bronx Zoo or the Botanical Garden. And of course, The Bronx Bombers, the New York Yankees, proudly call The Bronx home.
Staten Island
The final borough is far and away the smallest in both land and people, Staten Island. Interstate loop 278 connects Staten Island to Long Island, while I-78 joins it to Jersey City, NJ. And sometimes using New Jersey as your auto transport starting point or destination is a better option. Staying flexible and open gives you opportunities you may shortchange yourself on, in both cost and speed of transport, if you restrict yourself to just New York state.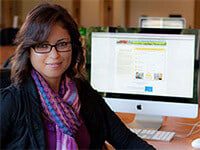 No matter where life beckons, shipping your car into or out of New York City doesn't need to be difficult or filled with unknowns. Use the Direct Express online calculator and find out exactly how much it'll cost to ship. Then when you're ready, you can either book online or contact our service team at 800-600-3750 to get more information or order your transport.