Car Shipping To and From New York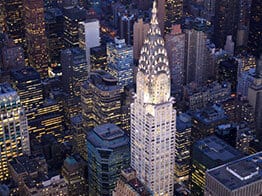 There are almost 2 million vehicles registered in New York City alone, and when you factor in the rest of the state, the total climbs even higher. With so many vehicles in one place, there's a heavy demand for New York car shipping and vibrant industry to support that demand.
As America's shining city, multiple major highways from every corner of the country travel into New York City. Vehicle haulers travel these highways on a daily basis, making it easy to find someone willing to transport a vehicle into or around the city. Fewer roads lead into Upstate New York and more remote areas, but that doesn't mean auto shipping in New York only happens in the city. Shippers may have to wait a little longer and pay slightly more to ship to some parts of the state, but they can still find options – especially with the help of Direct Express Auto Transport.
Where do you need to ship your vehicle and why? How much time do you have to work with? What does your budget look like? These are the questions you should answer upfront before arranging car transport to New York. That way you can find the best option for you and your vehicle out of all the options we track down.
Why Are Auto Transport Rates Competitive In New York City?
The famous I-95 Corridor runs right through New York City. It starts in Florida and ends at the Maine-Canadian border, making it the main artery in the American transportation system. Obviously Interstate 95 is immersed with auto transport carriers, making it easily the most popular road for the New York car shipping industry.
The Big Apple is our modern day Rome and all roads lead to it, or so it seems. Depending on your point of view, either starting or finishing, Interstates 78, 80 and 87 also serve New York City. And interstate outer belts I-278 and I-495 connect the New York boroughs as well. The tolls and traffic jams make getting in and out of New York City more expensive. It is not as easy as it looks on the map. Some boroughs are next to impossible, like parts of Manhattan, which has many streets in which auto transport trucks are strictly forbidden. Why? Too many physical landmark terrorist targets and the possibility of hiding a bomb in a car being transported, preclude the option of letting trucks anywhere near. So customers meet auto transport drivers across the river in New Jersey. The western part of Long Island is fine for auto shippers, but head east toward Sag Harbor and it becomes much harder for auto shippers. You have to live there to really understand it.
Car Shipping In The NYC Boroughs
In the New York City boroughs, from Staten Island to the Bronx, the freeway system is laid out as efficiently as possible. Though it pays off mightily knowing the best backstreets to get just about anywhere. Our first of a kind, original Direct Express Auto Transport quote calculator is ideal for reliable door-to-door prices going any distance between New York and any state.
Here are best destination recommendations from New York City
Manhattan, New York to Texas / best destination Dallas
Bronx, New York to California / best destination Los Angeles
Yonkers, New York to Florida / best destination Miami
New Rochelle, New York to Illinois / best destination Chicago
Queens, New York to Pennsylvania / best destination Philadelphia
Brooklyn, New York to Ohio / best destination Cincinnati
Staten Island, New York to Michigan / best destination Detroit
New York, New York to Georgia / best destination Atlanta
White Plains, New York to North Carolina / best destination Charlotte
Why Car Moving Rates Are Higher In Upstate New York
Interstate I-84  cuts across southern New York between Yonkers and Poughkeepsie. Interstate I-87 runs due north from the Big Apple through Poughkeepsie and the Albany-Schenectady area. All that is fine until you get north of Saratoga Springs toward the Canadian border. The population really thins out in the northernmost region of New York and it is like pulling hair trying to ship a car. Want some good advice? If at all pressed for time, either meet a driver or get your car south to Syracuse, Utica or Schenectady. Otherwise you may be waiting longer than our typical less than 7 days shipping time.
Our New York car shipping rates calculator produces much higher quotes in that region and one look at the map will tell you why that is. We need to entice a driver to go out of his way or reward a driver who is there. One thing is for sure, we do not want to lose our chance at a spot by getting out bid, so we make sure that does not happen.
Ship Your Car from New York
Just as many people ship vehicles out of New York as ship them into the state. People use New York car shipping options when they need to get a vehicle in any place they don't want to drive to. That could be a few hours away or on the other side of the country. Either way, car transport from New York means a professional handle the driving while you reclaim the hours (or days) you would have spent behind the wheel. Shipping instead of driving won't always be the best option, but it's always worth considering, especially since it's faster, simpler, and less expensive than many people realize.
The hardest part is finding New York car transport companies to work with, but that's where Direct Express Auto Transport comes in. We streamline the search process and quickly connect you with multiple vehicle haulers headed from your location in New York to whatever part of the country you intend to drop the vehicle off. The next time it's inconvenient, expensive, or simply impossible for you to drive a vehicle where it needs to go, turn to New York car shipping instead.
Here are best destination recommendations from Long Island
Hempstead, New York to New Jersey / best destination Atlantic City
Brookhaven, New York to Virginia / best destination Alexandria
Islip, New York to Washington / best destination Seattle
Oyster Bay, New York to Arizona / best destination Phoenix
Huntington, New York to Massachusetts / best destination Boston
Brentwood, New York to Tennessee / best destination Nashville
Hicksville, New York to Indiana / best destination Indianapolis
Farmingdale, New York to Maryland / best destination Baltimore
Valley Stream, New York to Missouri / best destination St. Louis
New York Auto Transport
Vehicle shipping from New York can be a challenge nearly year round. If it's not one thing, it's another. Traffic is either too condensed or jammed in the east, or too remote and spread out in the west. Fortunately, somehow, some way, it gets done.
Here are best destination recommendations from the rest of New York
Buffalo, New York to Wisconsin / best destination Milwaukee
Rochester, New York to Colorado / best destination Denver
Syracuse, New York to Minnesota / best destination Minneapolis
Albany, New York to South Carolina / best destination Columbia
Schenectady, New York to Louisiana / best destination New Orleans
Kingston, New York to Oregon / best destination Portland
Poughkeepsie, New York to Oklahoma / best destination Oklahoma City
Newburgh, New York to Nevada / best destination Las Vegas
Woodbury, New York to Utah / best destination Salt Lake City
Auto Transport for New York
Why work with Direct Express Auto Transport instead of other New York car transport companies? Because we give you more options to explore and let you comparison shop to find the most affordable and convenient hauler available. Vehicle hauling can seem exotic – but we make it easy. Learn more about auto shipping in our blog. When you're ready to ship a car (or explore the options more), use our online quote calculator to find what you need in seconds. If you encounter any issues or have any questions, please contact us.
Jun 29, 2015
This is by far the most professional, efficient, customer oriented transport company I have ever used. From the very beginning of the process until the car was delivered, I received top flight service at an incredibly fair price. Jessie, the Customer Service Rep who handled my account was both professional and very helpful. From the time my car was picked up until it was delivered, it only took 2 days. And that was from upstate New York to Texas. Also, I really appreciated the fact that I wasn't surprised at the delivery with some additional charge that other companies are know to do. Again, overall this was a fantastic experience that i would recommend to anyone trying to get a vehicle from one end of this country to another.
TrustPilot Reviews
We shipped two vehicles from New York to Florida. We left the day after the cars did and they got to Florida before we did.
The driver was very accommodating and friendly. One of our vehicles was a classic mustang, which we were worried about in an open carrier.
The car arrived in the same condition that we left it. They took extra care knowing how much the vehicle meant to us.
We highly recommend this company and would definitely use again.
They also had the best rates.
Vernon DePriest
TrustPilot Reviews
New York Auto Transport
View Larger Map