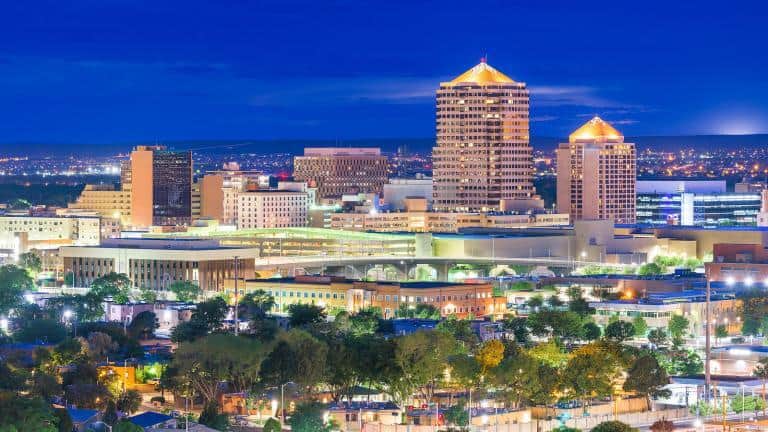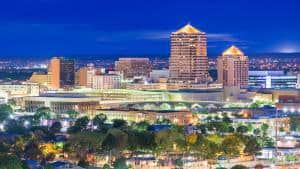 Albuquerque is not only the most populous city, with 562,281 residents, in New Mexico, it's also the best situated city in the entire state for shipping a vehicle to or from. With interstates 25 running north-south, and 40 taking the east-west route, your destination is within easy transport for an affordable rate. I-40 runs along Historic Route 66, parts of which can still be traveled parallel to the new interstate. And located in almost the geographical center of the state, its easy to drop off or retrieve your car if you're shipping to or from a different part of the state. 
This warm city, with 310 days of sunshine every year, is an ideal destination for outdoor enthusiasts and snowbirds alike. This desert city has mountains, hiking, fishing and even snow skiing! And with its diverse community and rich history, there is much to explore and learn.
Car Shipping to Albuquerque
Calm weather and big skies make Albuquerque the ballooning capital of the world. Year round, colorful balloons dot the sky. But every year in October, hundreds converge to the thrill of thousands of spectators, both visitors and residents alike. Plan ahead if you want to ship your vehicle to this very driver-friendly city in anticipation of attending the nine day festival. 
And while you're there, take the time to explore the Rio Grande neighborhood, including the zoo situated along the Rio Grande River, or head north of the city to Paradise Hills, home of the only privately owned public golf course in the city. But make no mistake, there's plenty more golf courses, as well as hiking, biking, skiing and more.
Outdoor activities aren't all Albuquerque has to offer. Diversity and culture abound in this city, proud of its Native American, Hispanic, and Latinx heritages and histories, as well celebrating recent past, such as Historic Route 66, with it's still-buzzing neon lights. But this is certainly a city that doesn't live in the past. Incorporating history with the very modern present and an eye to the future, they work hard to preserve the land and provide a great place to visit, work, and live. Some of our top neighborhood picks for great places to live or rent for a season include Taylor Ranch, Pleasant View and Amberglen.
Car Transport from Albuquerque
, NM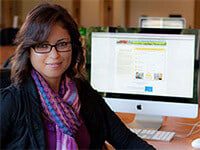 Albuquerque is also proudly home of the University of New Mexico, east of the city and I-25 in the University Heights neighborhood. With more than 25,000 students, there are plenty of cars shipped for the semester. And when the school session ends, you'll need to bring your student's car back home. You may also require auto transport services if you've sold a vehicle and need to ship it elsewhere, if the long winter is over and it's time to return home, or if you are moving to another state. You're in luck. Starting in Albuquerque means you've got great thoroughfares across which to move your vehicle. You are straight shots to Denver, CO; Amarillo, TX; and Flagstaff, AZ. Need to know how much it will cost to move your vehicle to these places and beyond? Try our online calculator for an accurate, fast quote without having to provide any personal information. And when you're ready to book, you can do it online or contact one of our customer service team members at 800-600-3750.