Ship Your Car to Missouri
Do you need to ship a vehicle in or out of Missouri? You're in luck because it's a lot easier than you expect. Since Missouri sits right in the center of the country, auto carriers pass through the state headed in every direction. If you're located in one of the major population centers – Kansas City and St Louis – you're also at the intersection of many major interstate highways. Shippers in either of those big cities should have no problem finding carriers willing to pick up or drop off a vehicle at a competitive rate. People in more rural parts of the state may need to wait a little longer to find a carrier and need to travel to a regional hub like Columbia, Joplin, or Kirksville. That being said, anyone located in any part of the state should be able to find Missouri car transport options with a little patience and flexibility – and the help of Direct Express Auto Transport.
Car Shipping to Missouri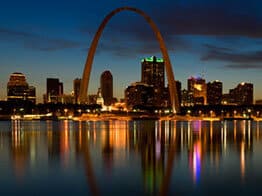 Knowing how easy (and affordable) it is to ship a vehicle into Missouri, you might be wondering when or why you would need this service. Whenever you use car shipping in Missouri you spare yourself the stress and distraction of doing the drive yourself. That way you don't need to take time off of work or spend hours and days behind the wheel, during which you would rack up a lot of additional travel costs. Whenever you either can't drive or would prefer not to for any reason, auto transport companies in Missouri are here to help. As long as you or someone you trust can drop the vehicle of and/or pick it up, you're almost set. Now you simply need to find a carrier to work with, something Direct Express Auto Transport knows exactly how to help with.
Ship Your Car From Missouri
These days, there are more options than ever for getting around, from ride shares to new kinds of rental cars. But there are lots of times when it makes sense to ship your own vehicle from Missouri to some destination within the lower 48 states. You might be spending an extended amount of time elsewhere, in which case it's the most economical option. Or perhaps a family member or friend needs a vehicle and you would rather not drive it yourself. Anytime you need to get a vehicle from one point to another without logging the miles, Missouri auto transport makes the most sense.
Auto Transport Companies in Missouri
Save yourself a lot of time and use the auto transport quote calculator from Direct Express Auto Transport to find an auto carrier willing to haul your vehicle. We connect you with multiple options and let you pick the best one based on your budget and schedule. Learn more about how auto shipping works by exploring our blog – one of the best resources online. And if you have any questions, please feel free to contact us.
Missouri was named by the neighboring Indians in Illinois, who called the Native Americans in that region near the Missouri River, "Ouemessourita", which means "those who have dugout canoes". The word Missouri pops right out of that. There is some debate on the pronunciation of Missouri, but it basically comes down to whether the speaker is from east "Missour-ee", or west "Missour-uh". The folks there know the difference. What they have in common though, is that it is a whole lot easier for car shippers in the extreme eastern part of the state, St. Louis, and the extreme western part, Kansas City. Those two metropolitan cities make it easy for Missouri car shipping companies.
Missouri Auto Transport
View Larger Map