Mississippi Car Shipping Made Easy
The state of Mississippi gets its name from the Mississippi River, which was named by the Chippewa Indians who called it "misi-ziibi", which means literally the "Great River". Phonetically you can hear how that translates easily to Mississippi. The capitol and largest city is Jackson with just a tad under 200,000 residents. No other Mississippi town has over 100,000 people, which makes Jackson almost the only reliable town for auto transport companies to ship in and out. The state ranks 31st in U.S. population, but is devoid of the big metropolitan cities that neighboring states have. Alabama has Birmingham, Tennessee has Nashville and Memphis, Louisiana has New Orleans, and Arkansas has Little Rock. So there's some real pop in those places. But Mississippi is peppered with scores of medium size towns, which they love that small town feeling, but nothing big to write home about. For an auto shipper, that's tough!
How Hard Is It To Move A Car To Mississippi?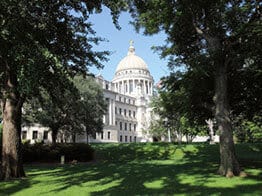 Answer is that it is actually kind of hard to do fast. We can get it done, certainly, but we like to shoot straight with the customer. Mississippi car shipping is historically difficult to do in a timely fashion. So after hearing that, why would you choose us? Because we admit it, that's why. We have noticed that some of our auto shipper competitors are so desperate that they will tell the customer whatever they want to hear. But there is always a day of reckoning and honesty works best. The reason that shipping a car to Mississippi is so taxing is that it is hard to amalgamate a full load of 8 to 10 cars coming from someplace else to anywhere in particular in Mississippi. Can you imagine 9 automobiles being transported fast from say … Boston to Jackson, Mississippi? It will happen, but it takes awhile. So your patience is greatly appreciated.
How To Ship A Car To Mississippi
Mississippi is actually very accessible by a number of interstate highways. The main north-south highway is I-55, which nearly cuts the state in half, and passes through Jackson. The other main highway is I-20, which does the same, splitting Mississippi in half east to west and also intersecting Jackson. I-59 takes a southeastern dive through Meridian and Hattiesburg, where it meets with I-10, which traces the southern most part of the state along the Gulf of Mexico. I-10 runs through Biloxi and Gulfport. The beaches in southern Mississippi, by the way, are gorgeous. Hidden southern gems that I'm sure they want to keep secret.
Words of Advice About Auto Shipping To Mississippi
It depends largely where you are shipping your vehicle? Basically if you are not along the I-55, I-20 and I-10 corridors, you're out of luck for a fast shipment. And even if you are along those highways, you might be shipping the wrong direction. The best bet by far is Jackson because the car shipper can go in any of the four main directions. So we advise that if at all possible, you should meet a driver in Jackson.
The key point in Mississippi is to try and meet a driver in Jackson!
If meeting in Jackson is not possible, then you might still get lucky, but don't count on it. Most likely your Mississippi car shipping order will be a tad delayed. In advance we apologize for your inconvenience, but as you can tell from this page, we will not be too surprised. If it means anything at all, nobody else can do it any faster, so we appreciate your sticking with us. You can also visit Direct Express Auto Transport to fill out a simple form and get a free car shipping quote. We make it easy to book your vehicle shipment online.
Mississippi Auto Transport
View Larger Map