Ship Your Car To and From Michigan
If you've searched "shipping a car to Michigan", or simply "car transport from Michigan," you've likely encountered a large number of options. When it comes to auto transport companies, Michigan has plenty of choices.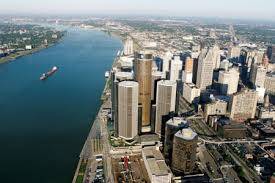 On this page, Direct Express Auto Transport will help you narrow your search. We'll cover the ins and outs of car shipping in Michigan and show you why we are the best choice no matter the direction. Learn more about Michigan car shipping below, and ship your vehicle with us today!
According to the 2020 census, Michigan is the 10th most populous US state with just over 10 million residents. That means there is a tremendous number of auto transport shipments in Michigan. With our car transport services, we make it easy in the Great Lake State.
Car Shipping Services In Greater Detroit
According to the 2020 Census, the greater Detroit metropolitan area has nearly 4.3 million people, which is 43% of Michigan. Detroit is unquestionably the single biggest market for the Michigan car shipping industry.
A quick glance at Detroit rush hour traffic congestion on almost any freeway, reveals a staggering number of single driver vehicles. All those vehicles make for a bustling car shipping market in the Motor City.
In the greater Detroit area, which is the absolute best place to ship a car in Michigan, the freeway system is laid out beautifully. From Rochester Hills on the north side to Southgate on the south side, Detroit has several interstates. Interstate I-94 starts at Port Huron and heads due south to Detroit, where it veers west. Interstate I-96 starts in downtown Detroit and cuts straight across the lower half of the state, through Lansing and Grand Rapids, and terminates in Muskegon, along Lake Michigan. Interstate I-75 starts at Sault Ste Marie at the US-Canadian border in the Upper Peninsula of Michigan, and heads straight south through Detroit, before ending in Florida. It cuts Detroit in half and has been the main artery since the 1950's. And of course I-275 and I-696 serve as outer belts. To the east, through the Tunnel or over the Ambassador Bridge, is the city of Windsor, Ontario, Canada.
Everybody seems to have their own strategy for getting from Point A to Point B in Detroit. You gotta think ahead. Our first of a kind, original Direct Express Auto Transport quote calculator is ideal for reliable door-to-door prices going any distance between Detroit, Michigan and any state.
Here are best destination recommendations from Greater Detroit
Detroit, Michigan to Texas / best destination Dallas
Warren, Michigan to Florida / best destination Miami
Sterling Heights, Michigan to New York / best destination Long Island
Ann Arbor, Michigan to California / best destination Los Angeles
Dearborn, Michigan to Pennsylvania / best destination Philadelphia
Livonia, Michigan to Ohio / best destination Cincinnati
Troy, Michigan to Illinois / best destination Chicago
Westland, Michigan to Georgia / best destination Atlanta
Farmington Hills, Michigan to North Carolina / best destination Charlotte
Rochester Hills, Michigan to New Jersey / best destination Newark
Southfield, Michigan to Virginia / best destination Alexandria
Royal Oak, Michigan to Washington / best destination Seattle
Pontiac, Michigan to Arizona / best destination Phoenix
St. Clair Shores, Michigan to Massachusetts / best destination Boston
Madison Heights, Michigan to Tennessee / best destination Nashville
Mount Clemens, Michigan to Indiana / best destination Indianapolis
Allen Park, Michigan to Maryland / best destination Baltimore
Birmingham, Michigan to Missouri / best destination St. Louis
Michigan Car Transport Services
Michigan auto transport carriers may drive through Lansing, the Michigan state capital. However, the rest of Michigan is also very good for car shipping services.
Here are best destination recommendations from the rest of Michigan
Grand Rapids, Michigan to Wisconsin / best destination Milwaukee
Lansing, Michigan to Colorado / best destination Denver
Flint, Michigan to Minnesota / best destination Minneapolis
Kalamazoo, Michigan to South Carolina / best destination Columbia
Wyoming, Michigan to Louisiana / best destination New Orleans
Novi, Michigan to Oregon / best destination Portland
Kentwood, Michigan to Oklahoma / best destination Oklahoma City
Battle Creek, Michigan to Nevada / best destination Las Vegas
Saginaw, Michigan to Utah / best destination Salt Lake City
The Direct Express Auto Transport Way in Michigan
If you have questions about Michigan car shipping or are interested about using our services, feel free to contact us by dialing our toll free number at 800-600-3750. Whether you need to ship a vehicle from Michigan or to Michigan, setting up a shipment couldn't be simpler. That is thanks to Direct Express Auto Transport.
We are the creators of the very first car shipping quote calculator around the turn of the millennium. Before we brought this innovation to the industry, you had to call around to numerous auto shippers, none of whom would provide a quote without your personal information. It took hours. Now you can use our Online Quote Calculator to fill out a simple order form. We make it easy to book your vehicle shipment online.
Michigan Auto Transport
View Larger Map