Michigan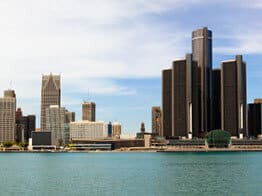 Car Shipping Quotes
All of that works pretty well in the Spring, Summer and Fall, but Winter can be a real problem for most of Michigan. There's plenty of action from Michigan to Florida in the Winter, especially from Detroit, but the harsh winter conditions farther north makes it problematic for the truck's hydraulics, and the slippery road conditions raises the possibility of road accidents and insurance claims. So the Winter in far northern Michigan is for some hands off.
Think Michigan. It's beautiful. The name has its root in the Indian Chippewa word "mishigamaa", which means big lake. Makes sense, right? The French fur traders came along in the 17th Century, liked the name but changed it ever so to the French form "Michigan", which stuck. See there, you learned something here besides how to ship your car. The French and local Indian tribes got along fairly well, and let's just say the French lads didn't have their women around, and let's just add that the French boys developed a crush on the Indian women and leave it at that. Everything was just great until the British won the French and Indian War in 1762 and took over Michigan. The British maintained control for only about fifty years, as the American Revolution in 1776 and later War of 1812 shifted control over to the Americans. Nobody cried over that as most of the inhabitants in Michigan were of French and Indian descent.
Night Moves and Car Moves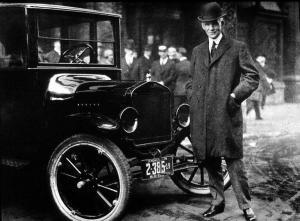 The advent of the automobile and the brilliance of Henry Ford, who figured out how to mass produce cars and better still make them more affordable to his own employees, was what thrust Detroit into the forefront of the American economy in the 20th Century. President Dwight Eisenhower's Secretary of Defense once said, "what was good for the country was good for General Motors and vice versa." That may still hold true. Though we tend to think that any city that produces talent like Bob Seger, Diana Ross and Motown, is what makes Detroit most valuable. Regardless, Detroit rocks and we love shipping cars there!
There are a number of main interstates that vehicle shippers use to service Michigan. I-75 runs from Florida through Ohio, north all the way to Michigan, intersecting Detroit and then straight to the U.P., where it finally ends at the Canadian border. I-69 enters from Indiana and heads north through Lansing and Flint, and then breaks the rules for an odd numbered interstate by heading due east toward Canada. We'll let 'em slide on that one. I-94 and I-96 relieve a lot of traffic pressure on I-75 in greater Detroit. So shipping cars in Michigan from the standpoint of freeway access is a breeze.
If you are headed to the Detroit area or to any other city in Michigan, our auto shipping service can really help. You can depend on a reliable service like ours to transport your vehicle. If you have questions about auto shipping, feel free to contact Direct Express Auto Transport by dialing our toll free number (800-600-3750). Or you can speak to our customer service representative about how the whole system works. You can also go to www.autotransportdirect.com to fill out a simple form and get a free car shipping quote and book it online.
Michigan Auto Transport
View Larger Map