Car Shipping Boston
The Boston, Massachusetts metropolitan area has over 4.5 million people, making it one of the most populated parts of the country. It's also filled with attractions, from sports and history to arts and culture. Neighborhoods like Beacon Hill, Back Bay, and the North End (among many others) offer irresistible appeal for residents and non-residents alike. People rightly consider the greater Boston area to be one of the most vibrant in the entire United States. So vibrant, in fact, that you really need a vehicle to take it all in. If you're planning a trip into town – for a family vacation, extended business trip, to go to college, or for any reason – you probably need a vehicle. Use a Boston car transport company to get your own vehicle to your desired destination in the Boston area so that way you can travel on your terms.

Car Shipping from Boston, MA
Boston car transports run in both directions. Perhaps you go south during the winter or have a summer home elsewhere. Maybe you're going to the other coast for a while or need to work in the middle of the country. Anytime you need to get your vehicle out of Boston and can't or don't want to drive it yourself, let car shipping companies in Boston, MA handle it for you. You won't regret the long hours you DON'T have to spend behind the wheel. Ready to get a free quote for auto transport from Boston? Get one quick using this online calculator.
Boston Car Transport
Boston has so much to offer – in neighborhoods like West Roxbury, Allston and everywhere in between – that you won't want to be stuck in one area. You also might not want to rely on limited public transportation options or expensive cabs to get around. That only leaves rental cars, right? Not if you work with a car shipping company in Boston instead. Whether you're in Somerville or another local neighborhood, vehicle haulers headed throughout the greater Boston area have space on their trailer for your car, truck, van or SUV. You just need to take advantage of the opportunity Boston car transport makes available.
Car shipping is exactly what it sounds like, and also a lot more affordable and accessible than you expect. Anytime you want to be in the same place as your vehicle but don't want to drive it there – on vacation, after moving, during college, once you buy your dream ride – use Boston car transport instead. It solves many common automotive headaches, and it makes traveling to, from, or around The BeanTown much more convenient. We have great success with car shipping from President John F. Kennedy's old congressional district in Brookline, and as well nearby Newton, Cambridge, Watertown, Dorchester, Medford, Malden, Revere, Chelsea, Lynn, Framingham, Brockton, Quincy, Marlborough, Natick, Worcester and Foxborough.
Auto Shipping – The Basics of Shipping a Vehicle
Here's the good news: Arranging auto shipping to or from Boston to anywhere in the lower 48 states doesn't have to be complicated, inconvenient or outrageously expensive as long as you have a quality shipping partner. It's the most important choice you will make in this process, and both yourself and your vehicle will appreciate working with one of the top car shipping companies. When arranging Boston car transport, you will specify where you want your vehicle shipped and on what schedule. Vehicles aren't like packages, meaning they can't arrive at a specific address within a precise delivery window. However, you can ship a vehicle to Boston or throughout the contiguous United States in under 3 weeks in most cases, and if you're willing to pay more, you can expedite shipping. To get a better sense of the cost involved, take advantage of this online cost calculator.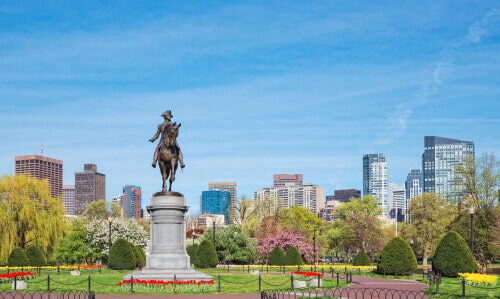 How Do Car Shipping Companies in Boston Calculate Costs?
Every vehicle has a different cost to ship. That's why companies doing auto shipping to or from Boston offer individualized quotes. After you submit your vehicle information, experts at the shipping company will use these factors to create that quote.
Distance – Every mile of vehicle transport adds to the cost of fuel, the driver, and the shipping time involved.
Length and Height – Larger vehicles take up more space on the transport trucks they ride on.
Clearance – Vehicles with low ground clearance are at higher risk of damage and cost more to ship as a result.
Weight – Since trucks only carry so much weight, carrying heavier vehicles means carrying fewer overall.
Condition – All Boston car transport companies charge more for non-running vehicles because they can't be driven on and off the truck.
Enclosure – Most cars travel on open-air trucks, but some must go inside enclosed trucks that are more expensive to ship with.
Season – Seasonal trends may elevate prices, like when car shipping companies ship waves of vehicles from Boston to Florida at the start of the winter
Location – Shipping costs go up when few vehicles are being shipped from the same location, as often happens in more rural areas.
Direct Express Auto Transport – Providing Car Shipping Options to and from Boston, MA
Finding a company that provides car shipping to Boston, MA shouldn't make you exhausted or anxious. Partner with someone you can trust by depending on Direct Express Auto Transport. You can learn more about us here, and read some of our blogs to learn more about vehicle shipping. Please contact us with all your questions, or call us at 800-600-3750.

Greater Boston Neighborhoods
Winthrop, Revere, Chelsea,Everett, Somerville, Cambridge, Newton, Brookline, Needham, Dedham, Canton, Milton, and Quincy.
More helpful links about Boston, MA