Car Shipping Services In Maryland (MD)
Direct Express Auto Transport service to Maryland since 2004
Maryland is located on the east coast of the United States and ranks 42nd in geographic size. However, it is 18th in population at just over 6,185,278 people according to the 2020 census. With such a dense population, Maryland car shipping services are in big demand.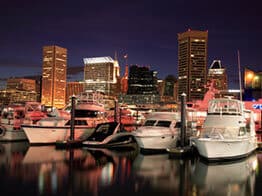 Maryland is home to The Preakness Horse Race as crowds swarm Pimlico Race Course in Baltimore every 3rd Saturday in May to experience the second leg of the triple crown. Baltimore is the largest city in MD and also boasts of two great sports franchises, the Orioles and Ravens.
Typical Price and Days Shipping Your Car From/To Maryland
| Service From/To | Price | Distance in Miles | Estimated Transit Time |
| --- | --- | --- | --- |
| New York to Baltimore | $369 | 194 | 1 – 2 days |
| Chicago to Baltimore | $589 | 698 | 2 – 3 days |
| Dallas to Baltimore | $969 | 1366 | 4 – 6 days |
| Denver to Baltimore | $1079 | 1660 | 4 – 6 days |
| Los Angeles to Baltimore | $1339 | 2639 | 6 – 8 days |
| Baltimore to Boston | $444 | 398 | 1 – 2 days |
| Baltimore to St. Louis | $639 | 819 | 2 – 4 days |
| Baltimore to Phoenix | $1289 | 2280 | 5 – 7 days |
| Baltimore to Miami | $884 | 1100 | 3 – 5 days |
| Baltimore to San Francisco | $1429 | 2835 | 6 – 8 days |
Note: All figures for Maryland car shipping are based on a regular sedan and estimated. Using our quote calculator on this page will display the current auto transport service cost. Most car transport carriers travel about 500 miles per day. Seasonal fluctuations may affect the price. 
Auto Transport Companies Near Me
Maryland is also called the Chesapeake Bay State. Here, you will find the largest estuary that is known to the United States, and it is positioned between Maryland and Virginia. This body of water stretches across two hundred miles and covers 64,299 sq. miles overall. Over a hundred plus rivers flow into the bay from other New England states and the Washington D.C. metro area.
Western Maryland is very much like West Virginia than it is the eastern part of the state. Baltimore and Silver Springs areas are ideal for nearby car shipping companies. Several interstates connect between Baltimore and Washington. I-70 begins in Baltimore and is a straight shot clear across America. I-95 runs up the east coast and right thru Bethesda, Rockville, Towson and Baltimore. Even I-83 heads to Baltimore. So there are plenty auto transport service companies near you.
Hiring The Right Maryland Car Transport Company
Whether you are headed to Baltimore, the D.C. area, Annapolis or elsewhere, our Maryland car shipping service can really help. We are well connected with over 10,000 carriers to transport your vehicle anywhere in the USA.
How Does Car Shipping Services From/To Maryland Work?
Watch this very informative Direct Express Auto Transport video on how to ship a vehicle. It's only five minutes long but will answer most of your questions.
Are There Cheap Car Shipping Services From/To Maryland?
We are very good at providing cheap auto transport service options with our lowest Standard price. We have faster service options as well, with our Expedited and Rush rates, but they do cost more. If you are willing to be patient, the Standard rate works 75% of the time.
Luxury & Classic Auto Transport Services From/To Maryland
We recommend our Enclosed car transport service for expensive luxury and classic cars. Only about 3% of all vehicle shipments go Enclosed, and it costs on average about 60% more. We also recommend using our Expedited or Rush car shipping quotes when going Enclosed Transport.
Other Maryland Resources
Maryland Wikipedia Page – great information about Maryland.
USNA United States Naval Academy – Curious about life on the yard?
University of Maryland – learn more about the Terrapins.
If you have questions about shipping your vehicle, feel free to contact us by dialing our toll free number (800-600-3750). You can also visit Direct Express Auto Transport to fill out a simple form and get a free car shipping quote. We make it easy to book your vehicle shipment online.
Maryland Auto Transport
View Larger Map