Car Shipping To Or From Kentucky
Don't spend hours driving your car to Kentucky. Or doing the opposite: driving it from Kentucky to another part of the country. Don't put up with the expense, inconvenience, and danger of a road trip that extends to hundreds or thousands of miles. You may love driving and have a passion for the make/model you drive. But that doesn't mean you're eager, able, or willing to make a long journey to or from Kentucky. Here's the good news: you don't have to.
There's more than one way to get a vehicle into or out of the Bluegrass State, and you barely need to be involved if that's what you'd prefer. With car shipping to Kentucky, for example, your vehicle rides on the back of a vehicle trailer (or inside an enclosed trailer) driven by a professional vehicle hauler. That person does the hard work to get a vehicle from one point to another, all while keeping your valued vehicle safer than it would be with its own tires on the pavement. Kentucky car transport, for many drivers in cities like Lexington and beyond, proves to be more convenient, flexible, accessible, and economical than the alternatives. No wonder so many savvy travelers choose this option instead of spending their own precious time behind the wheel.
Some of the reasons drivers seek out auto shipping from Kentucky or going in the other direction are because they're moving to a new home, headed elsewhere for college, work, or vacation, or selling/gifting an unwanted vehicle to friends, family, or total strangers. These are the most common reasons, but they're hardly the only ones. For whatever reason (or no reason), car shipping for Kentucky appeals to LOTS of drivers, some who have tried it before and many more who haven't. Are you one of those drivers?
Kentucky car transport carriers pass through central Kentucky and right by Mammoth Cave National Park. The Mammoth-Flint Ridge Cave System is the world's largest. Since 1981, it has been called a World Heritage Site and an International Biosphere Reserve. The caves stretch for about 400 miles and you better believe that Native Americans mastered every mile. Respecting nature is a hallmark of Native Americans and the mind's eye can picture an almost ideal life for them in Kentucky. Heck, we should all be so lucky. Forget about the mortgage bill, the car payment and those pesky student loans, shuck it all and live like an Indian in Kentucky. That's what Thoreau would do.
Arranging Car Shipping for Kentucky
It's easy to understand why shipping your vehicle could be a lot more convenient than driving it. It's also easy to arrange that shipment – much easier than you expect. Too many people assume that auto shipping is complicated, time-consuming, and expensive. That was once true, but the internet revolutionized how people ship cars – for the better!
Now, you can enter some basic information into a car shipping quote calculator and instantly get quotes from the country's best vehicle haulers. They're traveling through your location – inside or outside Kentucky – and headed towards your destination – anywhere in the lower 48 states, including to cities in Kentucky like Louisville, Lexington, Frankfort, Bowling Green and Covington, just across the Ohio River from Cincinnati. You pick the hauler that works for your schedule and budget, arrange pickup details, and you're all set. The last step is handing your car off to the vehicle hauler at a location close to your home or near a highway. Beginning to end, the process involves very little time or input. And when you consider the convenience and cost savings, Kentucky car transport starts to look like a very appealing option.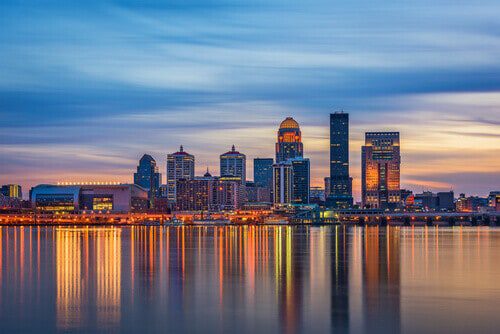 Direct Express Auto Transport – Your Car Shipping Partner
We connect you with the vehicle haulers you're searching for through our car shipping quote calculator. Ours was the first online, and it remains that best. You don't even need to enter an email address or any other personal information to get quotes from multiple vehicle haulers. Try it out – even if you're just curious about costs.
For more information about car shipping Kentucky, whether to or from, consult our blog. It contains tons of information to make the shipping process easier on you. Explore all the shipping services and the states we serve. And before you make us your car shipping partner, learn more about us as well. We can't wait to work together.
Kentucky Auto Transport
View Larger Map