Car Shipping Indianapolis
From Fountain Square and Fletcher Place to the Old Northside, people in Indianapolis, Indiana ship more vehicles that one would expect. But that's because there are more good reasons to seek out car transport in Indianapolis than people realize.
Perhaps you live in Broad Ripple but you're moving to one of the coasts. Getting your own vehicle to your new home base could be a real obstacle – unless you hire an Indianapolis car shipping company to pick your vehicle up and transport it wherever you want, whenever you want.
Maybe you're planning to spend an extended amount of time elsewhere for vacation, work, or school but would prefer to fly there instead of spending hours or days driving. Arrange for car transport from Indianapolis and then travel however you like knowing your vehicle is headed towards your same destination.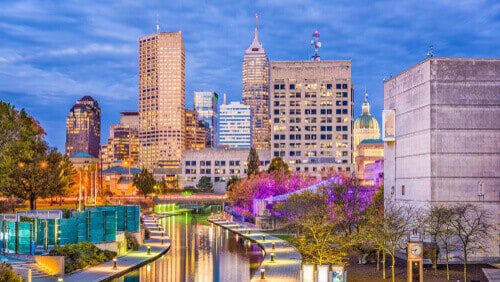 There are countless reasons to ship a vehicle instead of driving in yourself, but they all boil down to two things: you either can't make the drive or don't want to – which are both great reasons. Thanks to auto transport from Indianapolis to any other part of the lower 48, driving doesn't have to be an obstacle. Leave it up to a professional instead.
Transport Your Car to Indianapolis
When you need to get a vehicle to Irvington, Woodruff Place, or any other neighborhood in Indianapolis, you have the option to drive it yourself. Or you have the option to arrange transport.
Vehicle haulers may not drop a vehicle off at the exact address you need, but they will get it as close as they reasonably can. Car shipping to Indianapolis is often the simplest option when you need to get a vehicle to a friend, family member, or buyer. It's also the best alternative to a lengthy road trip with you behind the wheel.
On top of being stress-free, auto shipping to Indianapolis is typically safer than driving because your car, truck, or van ride securely on the back of a trailer (or inside an enclosed trailer) with a professional driver. It's also surprisingly economical compared to the cost of gas, meals, and lodging you rack up on a road trip.
Whenever you need to get an auto to Indianapolis or the surrounding area, consider vehicle shipping as an option.
Direct Express Auto Transport – Arrange Car Transport for Indianapolis
When you need to set up auto transport either to or from Indianapolis, make things easy on yourself. Use the car shipping quote calculator created by Direct Express Auto Transport. Simply enter what you intend to ship, when, and where, and you instantly receive a quote from multiple vehicle haulers headed to or from Indianapolis. Pick whichever one fits your schedule and budget, and the hard part is done.
Learn everything you would ever want or need to know about vehicle shipping from our extensive blog. If you need more information or guidance in regards to anything, please contact us.