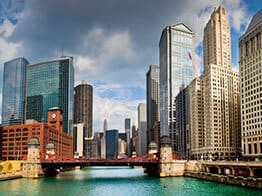 Ship Your Car To and From Illinois
If you've searched "shipping a car to Illinois", or simply "car transport from Illinois," you've likely encountered a large number of options. When it comes to auto transport companies, Illinois has plenty of choices. On this page, Direct Express Auto Transport will help you narrow your search. We'll cover the ins and outs of car shipping in Illinois and show you why we are the best choice no matter the direction. Learn more about Illinois car shipping below, and ship your vehicle with us today!
According to the 2020 census, Illinois is the 6th most populous US state with almost 13 million residents. That means there is a tremendous number of auto transport shipments in Illinois. With our car transport services, we make it easy in the Prairie State.
Car Shipping Services In Greater Chicago
The greater Chicago statistical area has nearly 10 million people, roughly three quarters of Illinois. Chicago is unquestionably the single biggest market for the Illinois car shipping industry.
A quick glance at Chicago rush hour traffic congestion on almost any freeway, reveals a staggering number of single driver vehicles. The famous subway Chicago Loop helps alleviate some traffic, but the downtown streets and freeways are still crawling. All those vehicles, however, make for a vibrant car shipping market.
In the greater Chicago area, the absolute best place to ship a car in Illinois, the freeway system is laid out beautifully. From Joliet on the south side to Arlington Heights on the north side, Chicago has several interstates converging. Interstate I-94 hugs Lake Michigan running south to north through downtown Chicago. From the east I-90 and I-290 take off to the west. So does I80 and I-55. A little bit south, I-294 does the same. On the west side, I-355 serves as an outer belt. I-57 dead ends into downtown from downstate.
Everybody seems to have their own strategy for getting from Point A to Point B in Chicago. You gotta think ahead. Our first of a kind, original Direct Express Auto Transport quote calculator is ideal for reliable door-to-door prices going any distance between Chicago, Illinois and any state.
Here are best destination recommendations from Greater Chicago
Chicago, Illinois to Texas / best destination Dallas
Evanston, Illinois to Florida / best destination Miami
Northbrook, Illinois to New York / best destination Long Island
Highland Park, Illinois to California / best destination Los Angeles
Glenview, Illinois to Pennsylvania / best destination Philadelphia
Arlington Heights, Illinois to Ohio / best destination Cincinnati
Des Plaines, Illinois to Michigan / best destination Detroit
Schaumberg, Illinois to Georgia / best destination Atlanta
Elk Grove Village, Illinois to North Carolina / best destination Charlotte
Elgin, Illinois to New Jersey / best destination Newark
Barrington, Illinois to Virginia / best destination Alexandria
Wheaton, Illinois to Washington / best destination Seattle
Aurora, Illinois to Arizona / best destination Phoenix
Naperville, Illinois to Massachusetts / best destination Boston
Bolingbrook, Illinois to Tennessee / best destination Nashville
Orland Park, Illinois to Indiana / best destination Indianapolis
Oak Lawn, Illinois to Maryland / best destination Baltimore
Joliet, Illinois to Missouri / best destination St. Louis
Illinois Car Transport Services
Illinois auto transport carriers may drive through Springfield, the Illinois state capital. However, the rest of Illinois is also very good for car shipping services.
Here are best destination recommendations from the rest of Illinois
Bloomington, Illinois to Wisconsin / best destination Milwaukee
Rockford, Illinois to Colorado / best destination Denver
Peoria, Illinois to Minnesota / best destination Minneapolis
Springfield, Illinois to South Carolina / best destination Columbia
Champaign, Illinois to Louisiana / best destination New Orleans
Decatur, Illinois to Oregon / best destination Portland
Gurnee, Illinois to Oklahoma / best destination Oklahoma City
East St. Louis, Illinois to Nevada / best destination Las Vegas
Crystal Lake, Illinois to Utah / best destination Salt Lake City
The Direct Express Auto Transport Way in Illinois
If you have questions about Illinois car shipping or are interested about using our services, feel free to contact us by dialing our toll free number at 800-600-3750. You can also use our Online Quote Calculator to fill out a simple order form. We make it easy to book your vehicle shipment online.
Illinois Auto Transport
View Larger Map