Car Shipping to Pensacola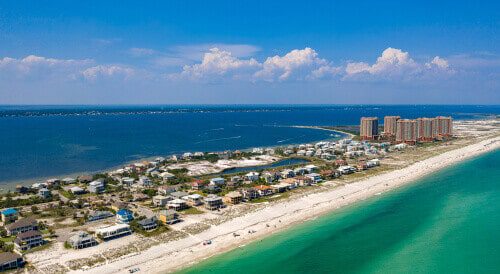 With so much history, culture, entertainment, and scenery to enjoy, Pensacola Florida is a great place to have a car of your own. You have a few options: rent a car, but that gets expensive fast; drive your own car to Pensacola, but if you're coming from multiple states away, that means taking a lengthy road trip. There's also a third option you might not have considered: ship your car to Pensacola Florida.
When you ship your own car to a Pensacola neighborhood like Tiger Point, Gulf Breeze, or Pace, you don't have to pay for a rental (or for ride shares/public transportation). It makes getting to nearby Fort Walton Beach, Destin, Miramar Beach, and even Panama City, so much easier! You've got everything you need to enjoy everything the city and surrounding region have to offer. Just as appealing, you didn't have to spend hours or days on the road – with all the stiff muscles and bad food that involves – but you still got your car to Pensacola.
No wonder so many people choose auto transport to Pensacola Florida over the alternatives. Some of them are moving to Florida, others are coming for an extended vacation or work assignment. There are also shippers trying to send a car to a family member, friend, or buyer – with shipping, they don't have to drive the car there and get themselves back home. If you're planning to spend time in Pensacola, think how nice it would be to have your own vehicle available.
Auto Transport From Pensacola Florida
When the snowbird season is up or you're leaving Pensacola for another reason auto shipping makes your next move easy. You can focus on getting yourself and your stuff to your destination as comfortably and conveniently as possible. Meanwhile, a professional vehicle hauler with your car loaded on the back of a vehicle trailer (or inside an enclosed trailer) is headed from Pensacola to the same destination you are. When it arrives, you sign for the car (or designate someone else for pickup), and you're fully mobile once again.
If you've never tried car shipping from Pensacola Florida, you may be overlooking the most convenient and cost-effective option available. And if you have tried vehicle shipping before, you know it can be extremely helpful – as long as you have the right shipping partners. No matter which group you fall into, Direct Express Auto Transport makes auto shipping easy on you. Let us help you take advantage of all that auto shipping has to offer. Our service doesn't even cost you money!

Direct Express Auto Transport – Free Quotes on Auto Transport for Pensacola
Use our car shipping quote calculator to arrange your car shipment to or from Pensacola Florida. You simply enter the make/model you want to ship, the pickup and dropoff locations, whether you want open or enclosed transport, and whether the vehicle runs. That's it – you don't need to enter payment information or even an email address! Moments later, you receive quotes from multiple vehicle haulers who are able and willing to take your shipment. Pick one that fits your budget and schedule, and just that easily you've arranged auto shipping services.
For in-depth information about car shipping, spend some time reading our comprehensive blog. You can also find a list of the states we serve here.