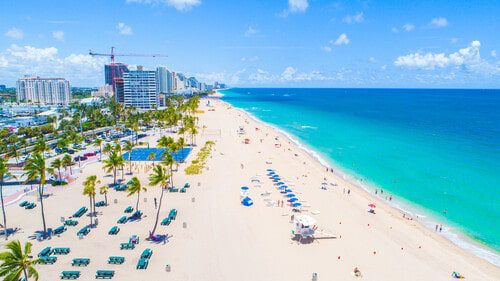 Ft. Lauderdale, Florida Car Transport
South Florida is one of the most gorgeous parts of the country. But in exchange for the lush scenery and exceptional weather, you have to deal with the fact that you're far away from everywhere except South Florida. You're facing hours behind the wheel and hundreds of miles of highway travel just to get to the next closest state.
Instead of driving their own car, truck, or SUV, lots of people choose an alternative: car shipping from Fort Lauderdale, FL to another part of the country. It could be one state away or in the opposite corner of the country. Regardless of the destination, car shipping in Fort Lauderdale ensures your vehicle arrives safe and on time after riding on the back of a vehicle transport trailer among other makes and models. Meanwhile, you either stay behind in Fort Lauderdale or travel to the same place as your vehicle by a more comfortable means: plane, train etc.
With auto transport starting in Fort Lauderdale FL, you and your car don't have to travel together. And thanks to the internet, arranging auto shipping in Fort Lauderdale or the surrounding area has never been easier or more economical.
Transport Your Car to Fort Lauderdale
What better way to spend a sunny afternoon than driving around a picturesque place like Fort Lauderdale, Florida with the windows open or, better yet, the top down on your own favorite convertible? If you would prefer to have your own vehicle to get around the city – rather than a rental, cabs, public transport, ride shares, or something you ask to borrow – consider shipping instead of driving.
For the many snowbirds who winter in Florida and summer elsewhere, car shipping to Fort Lauderdale, Boca Raton, Pompano Beach, Deerfield Beach, Pembroke Pines, Miramar, Hollywood and more, makes your travels easy – to your winter home, throughout your stay, and when you're ready to leave.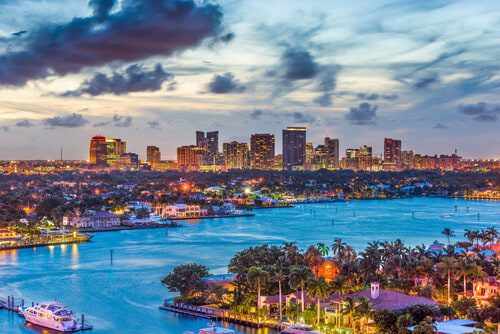 For different reasons, people selling or gifting their car to someone in Fort Lauderdale commonly use auto transport services. Otherwise, they would have to drive to the area themselves and get back home when they probably didn't want to leave in the first place.
Auto transport to Fort Lauderdale, FL can also save you time, energy, and road-related expenses if you're moving to the area permanently, temporarily, or for college. There are plenty of great reasons to rely on car transport to Fort Lauderdale, FL – but you don't need a reason. The only criteria is that you need to get a vehicle to this particular location. Beyond that, shipping is always an option worth consideration.
Direct Express Auto Transport – Serving Fort Lauderdale
Where do you go to connect with providers of car transport to Fort Lauderdale, FL or the reverse? Use the car shipping quote calculator created by Direct Express Auto Transport. Enter some basic information and in seconds you have a list of vehicle shippers headed to or from Fort Lauderdale. Compare them based on price and availability, pick the best option, arrange pickup/drop-off, and you're ready to go. It's all quite simple, and it saves you a lot of long miles on the highway.
Learn more about us or check out our blog for more info on auto transport. And please contact us with your questions.