Connecticut Car Transport Made Easy
Several major interstates run through the state of Connecticut. The proximity of the car shipping center to the major interstates and metro areas is a convenience to those traveling in any direction along the east coast. In particular, Connecticut receives a lot of carrier traffic because of I-95, a major interstate that runs through southern part of the state. Other interstates act as major arteries stretching all across the state and along the Atlantic coast. These interstates that run through the city makes is easier for Connecticut car transport carriers to reach their destination. This is why Connecticut is a great location for vehicle transport.
Shipping Your Car In Connecticut
When traveling, you can use the vehicle transport services to ship your vehicle all the way down the coast to Florida or up north to Maine. I-95 stretches up and down the coastline and even reaches into Canada. Bridgeport, the largest city in Connecticut, has the highest population in the state and happens to sit right along I-95. Hartford is the capitol of this beautiful state, as well as the largest metropolitan area, but is much further out from this particular interstate. However, that won't stop car transport carriers from being of service to you there as well. Some of the other major areas that the interstates run through include New York City and Boston.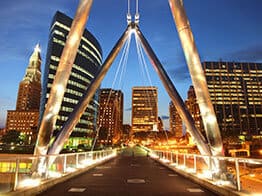 There are several reasons why using vehicle support services may be your best option. For one, you may not be in the mood for an extensive road trip. Driving a long distance tends to be time consuming and puts a lot of miles on vehicles. You may also need to make several stops along the way to fill up your tank. Additionally, if you are relocating to another area and have multiple cars, transporting all the vehicles on your own may not even be possible.
Connecticut Car Shipping Services
With auto shipping, your vehicle will be secured on a truck large enough to properly protect it from outside elements while it is being transported for you. By using our car shipping services, you have the option of getting to your destination in a few hours by airplane and waiting comfortably knowing that our auto transport team will deliver your car to you in one piece. You can also delight in the fact that your car won't have any extra miles on it.
If you have questions about Connecticut car transport, or are interested in using our auto transport services, feel free to contact us by dialing our toll free number (800-600-3750). Or you can speak to an auto shipping customer service representative about how the entire auto transport system works. You can also visit Direct Express Auto Transport to fill out a simple form and get a free car shipping quote. We make it easy to book your vehicle shipment online.
Connecticut Auto Transport
View Larger Map