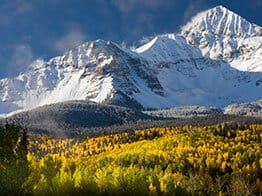 Colorado Auto Transport Made Easy
Demographer's expect Colorado's population to grow from 5.6 million in 2017 to 8.7 million by 2050. That's a lot of people headed into Colorado, not to mention all the tourists that flock to the state for vacation and recreation opportunities. With so many people wanting to spend time in Colorado, there's an ongoing need for Colorado car transport. Fortunately, it's never been more accessible.
Why would someone need auto shipping to Colorado? Lots of reasons. They may be flying into the state but need to get their vehicle on-site as well. Or maybe they have a kid going to college in Colorado that needs a car but mom or dad doesn't want to drive it hundreds of miles just to drop it off and come home. Those are just two out of dozens of reasons that people want and need car shipping to Colorado.
It's more common than people realize, along with being easier and more affordable than people expect. If you're sending a vehicle to a metro area like Denver or to any location located close to a major highway, expect to find abundant options that fit into your budget. And even if you're sending a car or truck to more remote parts of the state, you can find a hauler willing to take the shipment as long as you're patient. If Colorado car transport would make things easier for you in any way, don't hesitate to make the arrangements. It's always an option – and often the best.
Ship Your Car From Colorado
How many people look forward to a drive of hundreds or thousands of miles? Not many, but if you want to get a vehicle from Colorado to another state, an extended road trip seems inevitable. You could take the time off work, plan out your trip, get your meals from drive-troughs, and sleep in motels. Or you could hand off your vehicle in Colorado knowing it will reach whatever destination you want – and then your schedule is entirely your own. Relax at home or travel ahead of your vehicle by plane. The choice is yours because some else is doing the driving.
Plus, you don't need to go on an exhaustive search to find Colorado car shipping companies you might want to work with. You don't need to search at all, actually. Direct Express Auto Transport does that for you, and then you simply pick a hauler headed to your intended destination and willing to work within your schedule and budget. Colorado car transport from anywhere in the state to any destination in the continental US shouldn't be a hassle. With us, it isn't.
Car Shipping Colorado
Take advantage of our online quote calculator to quickly explore options and prices for vehicle shipping into or out of Colorado. You can also learn more about the vehicle shipping process and best practices in our comprehensive blog, or find out more about our company here. If you have questions at any point along the way, please contact us.
Colorado Auto Transport
View Larger Map