San Francisco Car Shipping Across Country
Are you starting a chapter of your life in San Francisco? Or are you about to get on the Golden Gate Bridge and leave town for good? No matter which way you're moving, you'll want to take your car with you. Save yourself time, money, and unnecessary mileage by having it shipped. Search "car transport San Francisco" and you'll find a number of options to choose from. Out of the many car transport companies San Francisco, California has to offer, none are better than our team here at Direct Express Auto Transport. With affordable prices, fast shipping times, and exemplary service every step of the way, we proudly offer safe and effective car shipping to and from San Francisco. Get more information on our San Francisco car shipping options below, and use our Online Quote Calculator to secure your quote today!
Ship Your Car to San Francisco
San Francisco is one of the most sought-after cities in the United States. It's a great place to live, and it's a great place to bring your car. Prices are high in the Bay Area, so getting a head-start on transportation is a must for anyone moving in. When it comes to car shipping, San Francisco has choices to spare. Some are good, some — not so much. None have the same level of speed, affordability, and overall reliability as our service here at Direct Express Auto Transport. We use our decades of industry experience combined with the industry's latest logistics to deliver simple, straightforward car shipping to San Francisco from anywhere in the contiguous United States. Plus, we offer both uncovered and covered shipping options for vehicles of all kinds.
Ship Your Car from San Francisco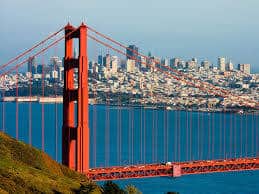 Leaving San Francisco in search of less-crowded spaces and lower prices? Bring your car with you to hit the ground driving. To ensure that your car is in great condition when you get to your new city — and to save yourself a long, jam-packed drive — ship it with our car shipping service here at Direct Express Auto Transport. With a network of drivers powered by the latest logistics plus a friendly and knowledgeable staff of representatives ready to help you with your needs, we make shipping your car out of San Francisco easy. Skip the process of searching through the many car transport companies in San Francisco, and work with our team for 100% satisfaction — no matter where you're shipping to.
Car Shipping Quotes San Francisco, CA
A successful San Francisco move starts with car shipping. Whether you're moving into the city or escaping it once and for all, moving your car with a professional car shipping company can save you time, energy, and automobile mileage. Search "car transport San Francisco" and you'll find a handful of services with a few up-and-coming ones sprinkled here and there. But for service you can trust at prices you can afford, choose the company with decades of proven experience under its belt. Choose our team here at Direct Express Auto Transport.
Over 15 years ago, we pioneered the Online Quote Calculator: a lighting-fast way to get accurate, 100%-transparent car shipping quotes from our team. All you need to do is enter a few facts about your car, your departure city, and your destination city, and you'll have your quote in seconds. Together with our always on-call customer service, fast shipping times, covered and uncovered shipping options, and affordable rates, our Online Quote Calculator has earned us a spot as the nation's top choice for car shipping. Read up on the history of our company on our About Us page and check out our 5-star rating on Trustpilot. Want to learn more about car transport, San Francisco seasonal pricing, and other related subjects? Read our Blog for expert guides on car shipping and more. Ready to see our service in action? Contact us!