Car Transport Across Country To Los Angeles
Los Angeles, California is the City of Angels … and home to Hollywood movie stars, great musicians, the television industry, incredible art and museums, Disneyland, the Dodgers, Angels, Lakers, Clippers & Kings! The weather is warm and mild. The white sandy beaches are picturesque with spectacular sunsets. The medical community and universities are world renown.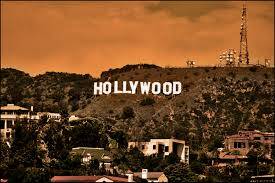 Los Angeles has nearly 13 million people as of the 2010 census, and almost 18 million if you count the surrounding area. Angelenos, as they are called, are a wonderful mosaic of people from diverse backgrounds covering the entire world. Large populations of White, African-American, Latino, Asian, Arab, Native American and more inhabit L.A., which makes the city rich in music, art, cuisine and just plain culture. LA is a taste of everything. We like it because with all those people in one place, there are plenty of people who need to ship a car!
Ship Your Car With Our Team
Searching for car transport? Los Angeles, CA has choices to spare. But none offer the efficient shipping times, affordable prices, and overall excellent service provided by our team here at Direct Express Auto Transport. Of the many car transport companies Los Angeles, CA has to offer, we set ourselves apart by using our industry-leading logistics and unparalleled experience to get your car from point A to point B with zero headache or hassle. Whether you're shipping to Los Angeles or out of Los Angeles, we have you covered. If you've been searching for "car shipping Los Angeles," you're in the right place.
Ship Your Car To Los Angeles
Making the move to the City of Angels? Whether you are chasing silver-screen dreams or just changing jobs, you'll need your car. Los Angeles is a big city, both in population and square miles. Owning an automobile will save you both time and money. You can also save both of these things by having your automobile shipped instead of driving to LA. You may have already searched "car shipping Los Angeles, CA" in an effort to save mileage and make your move as easy as possible. Out of the many companies you have found, our team here at Direct Express Auto Transport offers the best shipping with the best service, bar none. We use our logistics-driven experience to give our customers great rates on some of the fastest shipping times around. Plus, we ship to Los Angeles from cities nationwide. Use our Online Quote Calculator to get an affordable and accurate quote for your LA car shipping needs.
Ship Your Car from Los Angeles
Shipping your car out of Los Angeles shouldn't have to be a struggle. Sure, there's traffic, but the best car transport companies in Los Angeles, CA should know how to handle the freeways and flux of humanity with ease. Among the best of the best is our team here at Direct Express Auto Transport. With decades of experience in the industry, we stay on the cutting edge thanks to our highly-trained staff, logistics-optimized scheduling system, and expansive network of the industry's finest freight trucks (including both uncovered and covered trailers). No matter where you're shipping your car, we have the options and infrastructure to get it there safely, efficiently, and affordably. Use our Online Quote Calculator to get started.
What It's Like To Ship A Car In Los Angeles
Los Angeles is huge! It can easily take a couple hours to drive from one end to the other with no traffic. However, it seems there's always traffic and getting anywhere takes considerably longer than any person likes. If you have ever driven a car in L.A., you may have noticed that as a group, as a city, they are extraordinary drivers. Los Angeles automobiles can be seen darting in and out of traffic, switching lanes with the confidence of a race car driver, sometimes coming within inches of other vehicles while traveling fast, and of course skirting a long line of the sheepish by squirming in the front at the last possible second. What is amazing is that with all that jockeying for position, if even one driver messes up, then hundreds of thousands of people will be very late for work or some other event. Rarely do they mess up. The first time you see Angelenos on the road it is intimidating, but after awhile everybody gets the hang of it. Frankly, Los Angeles rocks like no other when comes to freeway driving. And so do our car transport carriers navigating their way through layers of frenetic traffic.
Car shipping carriers don't have the luxury of driving like Mario Andretti on Los Angeles' vast expanse of freeways. Auto transporters have large trucks carrying as many as ten vehicles on their back and cannot afford a mistake. So while everybody else is juking and jiving on the road, the carrier drivers are steady eddy taking good care of other people's vehicles.
Los Angeles Freeway System For Auto Shipping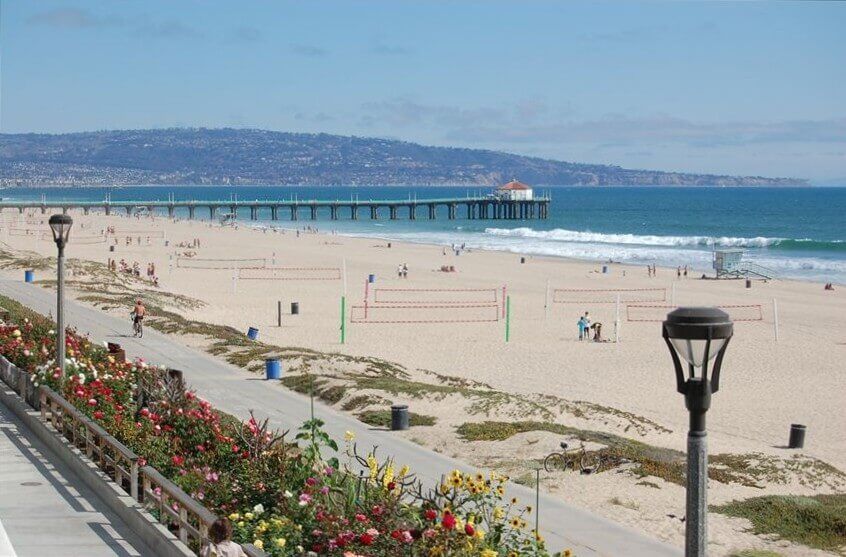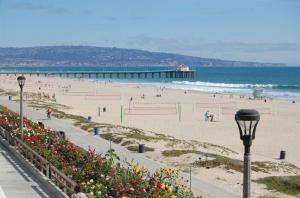 In LA, people will not say "I-10", but rather, will call it "The 10". Every freeway is "The" and not "I". Only Angelenos speak that way. It takes some getting used to that manner of speech. Farther north in the San Francisco bay area, people say it the same way as most Americans, preferring the short abbreviation for interstate by saying, "I". So Angelenos are unique.
To that end, "the 5" cuts diagonally from the NW part of Los Angeles right through downtown and then on to Orange County. The 10 splits LA in half from the east, again through downtown, before ending at the Santa Monica Beach in the west. The 110 starts in Pasadena on the north side and spears downtown on its way to Long Beach due south. The 710 does exactly the same thing but just a little farther east. The 605 arcs from the San Gabriel mountain foothills south to the 405 where it dead ends near Seal Beach. Every auto transport carrier knows his way through this maze of LA freeways.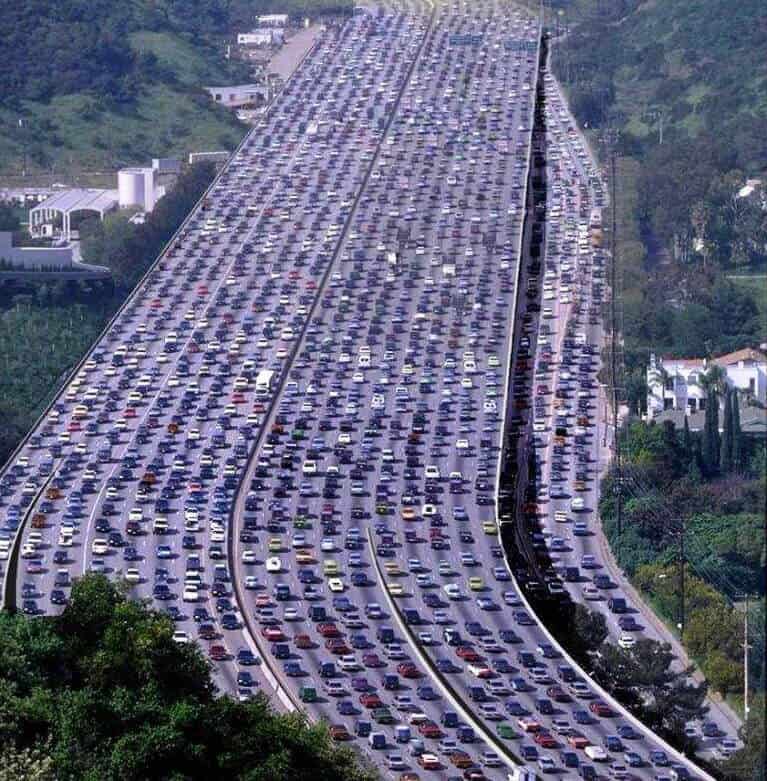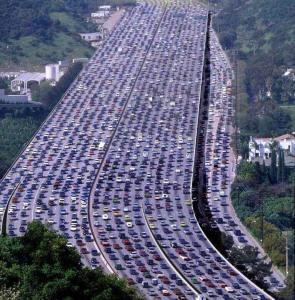 The 405 makes a gigantic half circle around Los Angeles by starting in the San Fernando Valley and heading directly south past Van Nuys, Beverly Hills, Santa Monica, Culver City, Venice, Marina Del Rey, Inglewood, Playa Del Rey, Hawthorne, Manhattan Beach, Hermosa Beach, Redondo Beach, Torrance and Carson. The 405 then lurches eastward through Long Beach before arching SE to Orange County. The 405 is one of the most travelled and congested freeways in Los Angeles, as just about any auto shipper can tell you.
Los Angeles added the 105 to help with traffic to LAX, the Los Angeles International Airport. The 105 also relieved some of the pressure on the 91 which also runs east to west on the south side of Los Angeles. The 210 serves the same purpose on the far north side of Los Angeles. The 2, 101, 134 all shoot off from downtown to serve communities on the northern stretches of L.A., such as Hollywood and Burbank. The 57 is a vital link on the far eastern side of the greater Los Angeles area, which allows car carriers and drivers to scoot around central Los Angeles. Make no mistake about it, an auto transporter must master Los Angeles if he has any hope of meeting his pickup and delivery appointments.
Car Shipping Quotes Los Angeles, CA
By now, you've probably read about our Online Quote Calculator. The first of its kind, it makes getting an affordable and accurate quote for car shipping as easy as possible. It's one of the many things that separates us from the many car transport companies Los Angeles, CA has to offer. Simply enter a few pieces of information about your car, departure city, and destination city, and you'll have a precise, 100%-transparent quote in seconds.
Quotes and affordable prices aren't the only things we do right. Our commitment to safe and efficient car shipping with exemplary service at every step of the way has earned us an unparalleled reputation in the car shipping industry. Don't take our word for it: take a look at the hundreds of reviews that comprise our aggregate 5-star rating on Trustpilot. When you're done, you can read our About Us page to learn more about our company, or get tips for transporting your car by reading our Blog. If you still have questions, feel free to contact us and we'll be happy to provide the answers. Ready to ship your vehicle? Get the finest car shipping Los Angeles has to offer. Partner with our team here at Direct Express Auto Transport today!

More helpful links about Los Angeles, CA