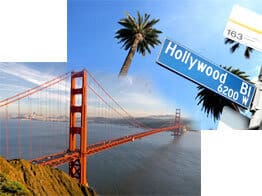 California
Car Shipping Quotes
California is America's most populous state with almost 40 million residents. If it were its own country, and some argue for that, California would have the world's 6th largest economy, greater than India, France, Brazil, Italy and Canada. That means there is a tremendous amount of car shipping in California, the Golden State.
The greater Los Angeles metropolitan area has nearly 19 million people, roughly half of California. The L.A. Basin is unquestionably the single biggest market for the auto transport industry in the USA. Unlike New York, where a person can get by without a car because of the elaborate public transportation system, Los Angeles is heavily dependent on the automobile. A quick glance at the L.A. rush hour traffic jams on almost any freeway reveals a staggering number of single driver vehicles. Los Angeles, Orange and San Bernardino counties do everything they can to encourage car pooling, but never-the-less see an inordinate number of people alone in their vehicles. All those vehicles mean a rich city market for any car transport business.
In the Los Angeles Basin from the San Fernando Valley to the San Gabriel Valley, from Santa Monica and the South Bay beach towns (hello Manhattan Beach!) to South-Central and downtown L.A., from the Hollywood Hills to East L.A., from City of Commerce and Industry to all of Orange County, the freeway system is laid out perfectly to transport vehicles as efficiently as possible. And everybody seems to have their own strategy for getting from Point A to Point B. But make no mistake about it, we love Los Angeles car shipping! Our first of a kind, original Direct Express Auto Transport instant quote calculator is ideal for reliable door-to-door prices going any distance between Los Angeles and any other city.
The Golden State is known for many things. California has several incredible land marks including The Golden Gate Bridge in San Francisco and Yosemite National Park in the High Sierra Desert. Positioned on the west coast of the United States, California is also known for its mountains and valleys, long beaches, vineyards and wineries, and for having the widest and tallest Redwood trees.
Auto transport services to and from California takes a special skill. You definitely want to use a vehicle shipping service. Even if you enjoy a good road trip, hauling an extra vehicle up or down the state is a task you want to leave to the professionals. Expert vehicle shipping companies know how to navigate through this mountainous state and deliver your car to you expeditiously. California is a beautiful state, even from an airplane view. So you won't miss out. You can fly to your destination, and rely on your vehicle shipping company to deliver your car to you.
California is bordered by Oregon, Nevada, Arizona and Baja California (a Mexican State) to the south. Whether you need to use an auto transport company to get your car from Sacramento to LA, or through the Central Valley down to the San Diego border, you want a top quality carrier to ship your vehicle. The drivers conducting the auto transport deliveries throughout California can expect to come across these different regions.
Starting from just below the Oregon border, auto transport teams head down from the North Coast or the Shasta Cascade region. In the Cascade Range in Northern California, you'll find the Shasta Mountains. One beautiful mountain there is reported to be an active Volcano and contains one of California's highest peaks.
In the central northeastern part of California, auto transport carriers go through an area called Gold Country. This is the famous area that attracted a wave of people looking for gold to migrate to the west in the mid 1800's. The narrow strip stretches across the Sierra Nevada to parts in Sacramento.
One popular spot for vehicle shipping is the San Francisco Bay area. It has the fifth highest population in the country. It would be a good location for auto shipping support because it's a good area for drop offs or pick ups. Just south of San Francisco is another good location for auto transport services, the Monterey Bay Peninsula. It's good for vehicle shipping because it's close to the shore and the climate is nice all year round.
From here, auto transport trucks can continue to work their way down The Central Coast to catch beautiful imagery of the shore. The vehicle shipping service can also go through Central Valley, a major agricultural part of the state.
If auto transport carriers are heading east, they'll enter into The High Sierra, the mountainous area above the deserts. The highest points in California are found here in this region. Sierra Nevada reaches up to 14,000 plus feet high. It is also home to the popular Yosemite State Park.
One smaller, but highly populated area following the Central Coast is the Los Angeles Basin. When one thinks of L.A., heavy traffic, famous beaches and Hollywood come to mind. Los Angeles has the second highest population in the US. Again, this would be another great spot for vehicle shipping. Right below this basin is Orange County and the Inland Empire.
To the east are the deserts take up a good portion the southeastern part of California, including The Mojave Desert. Death Valley, which holds the title for having the lowest elevation level and the hottest highest temperatures in the North America, is positioned in the Mojave Desert. Though typically scary, the vehicle shipping crew will come across a few good sized cities in the desert including Lancaster and Victorville.
Vehicle shipping within southern California is not so bad considering the heavy traffic of Greater Los Angeles. This is mainly because auto transport companies will not be challenged with severe weather. It barely rains in the southern parts of California, and during the winter, you won't find any snow until you head toward the mountains.
Several interstates run through California, making maneuvering through the diversely elevated state not so difficult for an auto transport team. Highway 5 goes all the way north and south through California and the entire west coast. It stretches from the top of the state to the southernmost tip of the San Diego border. Those who are shipping vehicles to California from other parts of the state may find it interesting to know that Route 66 ends in Santa Monica, which is adjacent to Los Angeles. Interstate 101, which combines with Highway 1 (Pacific Coast Highway) at some point, travels along the shore. It even travels all the way up the northwestern coast of Washington State.
If you have questions about vehicle shipping or are interested in using our auto transport services, feel free to contact us by dialing our toll free number (800-600-3750). Or you can speak to an auto shipping customer service representative about how the entire auto transport system works. You can also go to www.autotransportdirect.com to fill out a simple form and get a free car shipping quote. We make it easy to book your vehicle shipment online.
California Auto Transport
View Larger Map