Ship Your Car to Arizona
Arizona is one of the Four Corner States. It's also one of the best places in the country to plan a road trip. Sharing borders with New Mexico, Utah, Nevada, California and the Mexican border, there are no shortages of amazing destinations inside and around Arizona. Make sure you're mobile enough to see The Colorado River flow through the northern part of the state all the way down to its western border. If you are having your car shipped to Phoenix or Tucson, you can make your trip from there with your own vehicle. The whole state, with all its gorgeous scenery and rich history, is within your reach!
Auto Shipping Around The Grand Canyon
The Grand Canyon attracts tourists from all over, along with nearby attractions like amazing caves, several national parks, resorts, and campsites. This world wonder offers endless chances for travelers to explore and discover. With your own vehicle, you have a way to get yourself, your family/friends, and all your gear to any location around the Grand Canyon.
Ship Your Car From Arizona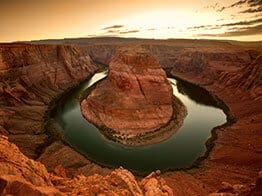 Whether you need your vehicle for an extended vacation elsewhere or you are moving to another location, you will love having an Arizona auto transport company assist you. You can have your car shipped right to you or a designated destination. Your auto transport team will be there to deliver expeditiously and with care. To learn more, estimate your costs using this free quote calculator.
Car Shipping Arizona – Why Ship a Vehicle?
You see trucks full of vehicles on the highway all the time, but where are they headed? In some cases, people like you are shipping the vehicle onboard, and probably for more reasons than you expect. Auto transport makes sense for a lot of vehicle owners inside and outside of Arizona. Here are some common examples:
On Vacation – If you're going to be flying into Scottsdale and want to avoid getting a rental car – especially for an extended amount of time – let car shipping companies drop your vehicle off anywhere in Arizona for wherever you want it.
Before College – When your kid goes off to college and needs a vehicle, it's a pain to drive it there yourself and then travel back home. With a car shipping service, you save a lot of time and hassle getting a vehicle to campus – or back to your driveway after graduation or semester end.
Extra Protection – Rare and collectible vehicles need to stay off the highways as a general rule of thumb. Auto lovers who need to get a vehicle in or out of state without putting hundreds of miles on the odometer should work with auto transport companies.
Less Stress – Spending hours, days, or weeks on the road can leave you feeling drained. Anytime you need to get a vehicle between point A and point B and just don't feel up to the drive yourself (totally understandable), rely on an auto transport company instead. You accomplish the same thing without spending a second behind the wheel.
Getting Ready for Arizona Auto Transport
You need to do a few things before your vehicle gets loaded onto a truck and whisked away to wherever you require. Most importantly, you need to evaluate the car shipping companies and find the best one for your circumstances. The company you choose determines the quality of the whole experience and takes responsibility for the safety of your vehicle, so spend some time comparing options – or save time and contact Direct Express Auto Transport immediately. After you have arranged to have your car shipped to or from Arizona, take these steps before relinquishing your vehicle:
Wash and Inspect the Vehicle – Thoroughly wash the exterior (or drive through a car wash) before inspecting and documenting any damage including dents, scratches, and broken equipment. Photo evidence helps you prove any damage caused by a company providing auto transport to or from Arizona.
Do Necessary Maintenance – If your vehicle needs repairs or maintenance, get them done before shipping. It allows you to be ready to go when the vehicle arrives. You should also empty the gas tank to between ¼ and ⅛ of a tank and check for any leaks. Finally, remove anything installed on the exterior like a bike or luggage rack.
Empty the Interior – Minimize the chances of loss by removing all personal items from the vehicle interior, particularly electronics like an external GPS or dashboard camera. This is also a good time to clean the interior thoroughly so that it arrives fresh, and you can start your drive.
Leave a Note – Although your car will only be driven on and off the carrier, it's still important for the person driving to know about any quirks or malfunctions. Document these in a note and secure it to the dashboard.
Ship Your Car To & From Arizona Easily With Direct Express Auto Transport
If you have questions about vehicle shipping to or from Arizona and are interested in using our auto transport services, feel free to contact us here or by dialing our toll free number (800-600-3750). Speak to an auto shipping customer service representative about how the entire auto transport system works. We make it easy to book your vehicle shipment online. Learn more about how this whole process works by exploring our extensive blog.
Arizona Auto Transport
View Larger Map