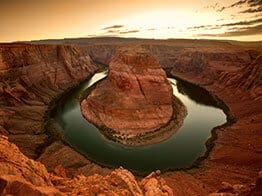 Arizona Car Transport Made Easy
Several well-known people have come out of Arizona including political figures John McCain and Barry Goldwater, who both won the Republican presidential nomination only to latter lose in the general elections of 1964 and 2008. Arizona is also the birthplace of screenwriter and movie producer, Steven Spielberg.
Arizona is one of the Four Corner States. Once a Mexican territory prior to the Mexican-American War, this U.S. state is now bordered by New Mexico, Utah, Nevada, California and the Mexican border. The Colorado River flows through the northern part of the state and extends down its western border. Arizona car transport teams coming from the west know that this major body of water serves as a border between Arizona and two of its neighboring states, Nevada and California.
Auto Shipping Around The Grand Canyon
With the help of the Colorado River, the splendid Grand Canyon was carved and positions itself in the northern part of Arizona. This world wonder attracts tourists from all over. Other attractions include amazing caves, several national parks, resorts and campsites. Auto transport drivers will discover numerous monuments and national parks throughout the state. Because of the desert conditions and high elevations, those completing the vehicle shipping trip can expect the temperatures to be very hot during the day, but drastically cooler by night.
Phoenix is Arizona's capital and happens to be the most populated city in the state. This makes it a good location for auto transport. Several highways and interstates run through the city. Vehicle shipping drivers can also appreciate that it is centrally located. Along with city life, there are also many Native American reservations in Arizona. In fact, Indian reservations have rights to a quarter of the land.
Shipping Your Car In Arizona
Whether you need your vehicle for an extended vacation or you are moving to another location within Arizona you will love having a vehicle shipping service to assist you. You can have your car shipped right to you or a designated destination as you get to travel through this lovely state and enjoy all it has to offer. Your auto transport team will be there to deliver expeditiously and with care.
If you have questions about vehicle shipping to or from Arizona and are interested in using our auto transport services, feel free to contact us by dialing our toll free number (800-600-3750). Or you can speak to an auto shipping customer service representative about how the entire auto transport system work. You can also go to the Direct Express Auto Transport site to fill out a simple form and get a free Arizona car transport quote. We make it easy to book your vehicle shipment online.
Arizona Auto Transport
View Larger Map