Why spend the winter somewhere cold and snowy when there's plenty of warm weather to enjoy across the Southern United States? That's the mindset of snowbirds, and it makes perfect sense. Who wouldn't want to soak up the sun year-round?
Appealing as the snowbird lifestyle maybe, living in multiple places throughout the year creates some logistical challenges. That's especially true of transportation. You want a car at your disposal when you head south for the winter, but you don't want to rent something for months on end. Having your own vehicle – something you feel familiar and comfortable with – to drive around would be ideal, but you might not want to take it on a lengthy road trip from North to South either.
Instead of settling for a less-than-perfect option, consider snowbird auto transport. It's easier than you expect to ship your own car from one state to another. It's probably more appealing and advantageous too. Most of all, it's perfectly suited to the snowbird lifestyle – no wonder so many of them rely on snowbird car transport year after year. Maybe it's time you tried it too?
What is Snowbird Auto Transport?
You might expect this process to be confusing and complicated, but it's just the opposite. First, you find an auto hauler traveling through your area and headed towards your destination, whether that's north to south or vice versa. How do you find a hauler, you're probably wondering? By relying on Direct Express Auto Transport to make the connection at the start of the snowbird seasons.
After you arrange a pickup time and location, you will meet the driver to drop off your car. Simply sign some paperwork, hand over your keys, and you're done. After that, the auto hauler handles everything. They get your car, truck, SUV or other type of vehicle on and off the vehicle trailer. More importantly, they're the ones transporting the car across hundreds (or thousands) of miles of open road.
When the auto hauler arrives at your winter home, they will pull the vehicle off the trailer, have you sign a few documents, return your keys, and head off. And now, with minimal time or effort, you can spend the winter behind the wheel of your own car. Plus, you can reverse the process to get your vehicle back to your summer home.
No matter where the snowbird lifestyle takes you, transportation doesn't ever have to be an issue.
Advantages of Snowbird Car Shipping
More than a million people migrate to Florida each year, plus all the people going to snowbird hotspots like Arizona, Texas, Nevada, and more. Many of these warm-weather seekers take advantage of snowbird car transport because they've discovered it makes their lifestyle less stressful and more flexible: exactly what they're looking for in their golden years. Consider all the ways that shipping your car beats the alternatives:
Travel Safer – Winter weather isn't just uncomfortable – it's dangerous for anyone on the roads. Driving to your winter home might mean traveling on wet and icy pavement with limited visibility. It could also mean that winter storms make some routes more dangerous, slower, or impossible to use. The point is, wintertime travel can be very risky. Instead of submitting yourself and your family to dangerous driving conditions, let an auto hauler do the driving. It makes getting to your destination a stress-free experience.
Travel Faster – When the temperature starts to drop and the first snowflakes fall, snowbirds get eager to take flight. Air travel gets you to your destination in a matter of hours along with all or most of your luggage. It makes your travel plans more flexible, not to mention a lot more comfortable since you don't have to spend long hours behind the wheel. Snowbird car shipping lets you travel the way you would prefer, by air, while someone else deals with your vehicle.
Travel Cheaper – On top of eating up time, causing stress, and leaving you exhausted, road trips can be surprisingly expensive when you factor in all the related costs: meals, gas, lodging, wear and tear on your car, tolls, and more. Snowbird auto transport starts to look a lot more economical given how many travel costs it saves you. It's also far less expensive than renting a car all winter.
Serving All Snowbirds Nationwide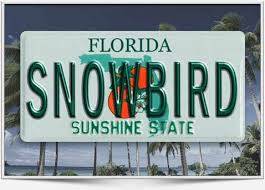 Being a snowbird is all about being free – going where you want as the whim strikes. With your own vehicle to use, you can make the most of all your winter home has to offer and each day you spend in your own slice of paradise.
Direct Express Auto Transport works with snowbirds across the country. Some follow the typical routes and others have their own unique approach to escaping the winter weather. But in all cases, they love the convenience of having their own car without having to drive it across half the country.
With our online car shipping quote calculator, it couldn't be easier to connect with car haulers eager to make snowbird car transport a seamless process. We carefully vet everyone we work with so that you can trust your vehicle is in good hands. We also work hard to make every step of the process quick, easy, and stress-free for you. That's how we've become the preferred choice for snowbirds who ship cars regularly.
We invite you to learn more about us and explore the various shipping services we offer. And if you have questions or need more information about anything, please contact our friendly team.