Shipping Cars to Washington, DC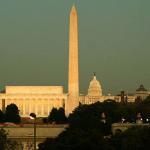 The nation's capital was carved out of parts of both Virginia and Maryland (though mostly Maryland), and sits right along the banks of the Potomac River. It is not a state, but rather a special district built for the specific purpose of being the capital of the United States. It was first mapped and planned in the early 19th century, and today it is the most important piece of land in the entire United States. Ironically, however, there are no major interstates that actually go through the capital; it is serviced mainly by auxiliary interstates connected in various ways to Interstate 95, a major north-south interstate that runs along the east coast.
However, this does not stop many carriers from making stops near Washington, DC – usually they'll deliver to nearby Arlington or Silver Spring, depending on which way they're heading. This is because getting into DC proper can be challenging due to the confined spaces and minimal maneuvering room that trucks have. There are certainly areas of DC they'll move in to and can move around in, but at the same time it will usually be a bit more expensive because they have to go off the interstate and use auxiliary interstates to get into DC proper.