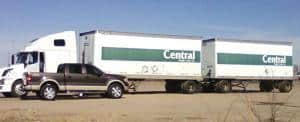 The safest way to ship a car is a question that has a few different answers. If you want the straight-up, absolute safest way to transport a car, enclosed auto transport is probably going to be your best bet. Enclosed transport is great because it completely protects your vehicle from exposure to the outside elements. Your vehicle will be secured inside an enclosed container on the back of a large semi truck (not unlike the 18 wheelers you see on the highway every day) and transported from your pickup location to your delivery location.
However, enclosed auto transport services are more expensive than the alternative, which is open transport. This is why we say that there are a few different answers when you ask what the safest way to ship a car is, because open transport is as safe as driving your vehicle on the road yourself – safer, actually, because you don't have to worry about other people slamming into your car (it's on the back of a truck) and you aren't putting the miles on it if you transport it that you would if you were to drive it. But what's the difference?
Enclosed transport is more expensive than open transport. A lot more – usually anywhere from 35-50% more expensive than what an open carrier would charge on the same route. So enclosed transport is generally something that is recommended only if it is absolutely necessary, because 95% of the time open transport is completely safe. Only 5% of all vehicles transported every single year have damage that requires filing an insurance claim against the trucking company, and most of the time it's because of things that no one had any control over – golfball-sized hail, for instance, or rocks that get kicked up by other cars on the freeway. Things happen.
When searching for the right method of auto transportation for your specific vehicle, take a look at what exactly you're shipping. If it's a high-end, expensive car, enclosed transportation might be worth the extra money. However, if you're transporting a vehicle that you drive every day and expect to drive when it's delivered, you're probably going to have just as good an experience with an open transport truck. You can also call our toll-free number to speak to one of our live agents if you have more questions about which method of transport would be best for your specific vehicle.
If you're interested in transporting your vehicle safely, you can fill out our free online car shipping quote form and get an instant auto transport quote. You can book your auto transport order right there online or you can call our toll-free telephone number at 800-600-3750 to speak to one of our live auto shipping service representatives who can answer your questions and explain more about the auto transportation process.