Portland Auto Shipping Tips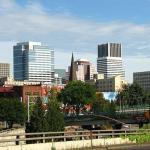 Transporting a vehicle to Portland, Oregon is something that's either fairly quick and easy or really difficult and expensive, depending on where you're shipping from. Okay, maybe not¬ really¬ difficult or expensive, but more expensive and time-consuming than it should be. The problem with Portland is getting there – locked in the Pacific Northwest, west of the Cascades no less, makes it difficult for carriers not coming from California to get there, because they have to go over the Cascades. Now, as far as mountain ranges go the Cascades are no Rocky Mountains or Appalachians, but they do present their logistical problems nonetheless. I-84, coming from the east, is really the only route that carriers have available to them unless they're running into Washington first (from which they could take I-5 south into Portland, but we'll get there in a minute). I-84 runs from Salt Lake City into Portland, and passes through few major metro areas.
Conversely, you have I-5, which runs from San Diego to Bellingham, Washington, and passes right through the heart of Portland. Carriers prefer running routes along I-5 because it sees a lot more traffic than I-84, and it runs through more major metro areas. Near the border between Oregon and California can be trickier, as there are fewer cities as carriers get close to the Grapevine, but if you're shipping into Portland from anywhere along I-5 (or from anywhere with easy access to it) you'll find prices will generally be lower all the way around. Shipping from Minneapolis or somewhere else near the Great Lakes? Chances are carriers will run into Washington, usually Seattle, and then hop on the 5 there and travel down into Portland. You can read more about the city of Portland by visiting their official website here.