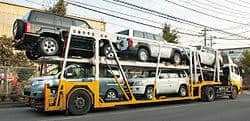 The best auto transporters in the industry are probably ones that you've never heard of, unfortunately, but that's okay – it's kind of the way that carriers like it. Auto transporters, or carriers, don't have time to sit and spend on the computer building websites or the money to spend on increasing their advertising and their overall presence in regards to customers. That's why they rely on brokers, and the best auto transporters rely almost exclusively on brokers to find their freight for them.
But how? The answer is surprisingly simple. All the money they don't spend on advertising is instead put into their trucks, which help lower costs for the customers that are using their services and makes it easier for them to find loads and book them and actually make money. Carriers make money by driving, and the more they drive the more cars they can pickup and deliver; thus, few will spend much time searching for loads, leaving all the gruntwork to their dispatcher, who is usually in a small office contacting brokers to find freight that their driver can pick up and transport. This system works surprisingly well, and makes it easier for customers, brokers and carriers if everyone does their jobs.
The best auto transporters get this, and they stick to the driving. The best auto transport companies, or brokers, get this too; they're the ones you'll find online, usually via online auto transport quote providers. The best auto transporters out there work with brokers and with customers like yourself to make the transportation of your vehicle as smooth as can be. Those carriers that do a good enough job for brokers and customers will usually earn a spot on various preferred carrier lists, which are lists brokers use of companies that they can routinely go to. These are the carriers you want transporting your car.
When it comes to finding the best auto transporters out there, you need to get some free auto transport quotes before you do anything. When your broker books your shipment with a carrier, you should do some research on that carrier – this is a great way to make sure that the carrier scheduled to pick your vehicle up is as reliable and reputable as the company that hired them. A little bit of research into finding the best auto transporters goes a long way in this industry. If you're interested in transporting your vehicle, you can fill out our free online car shipping quote form and get an instant auto transport quote. You can book your auto transport order right there online or you can call our toll-free telephone number at 800-600-3750 to speak to one of our live auto shipping service representatives who can answer your questions and explain more about the auto transportation process.