Auto Transport Quote Calculator to Chicago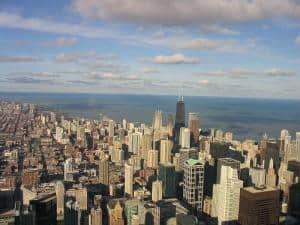 Our car shipping quote calculator is a must for anyone who wants to know what the auto transport rate would be to the Windy City. Chicago is one big bustling city that just might be the easiest place to ship a car in these United States. We love shipping to Chicago or from it! Oh if it could only be so easy elsewhere. The reason for that is because with so many people living there, chances are good that an auto transport truck can amalgamate a full load going just about anywhere. The other three cities that share a common warm place in the hearts of vehicle shippers are New York City, Los Angeles and Dallas. When an auto shipper goes to Chicago, he wants to know that he can get back out with a full load of 8 to 10 cars. That is easier to do in Chicago than … say Des Moines.
Perhaps no other city, save Los Angeles, is as well mapped by major interstates. They are almost perfectly aligned. I-90 and I-94 merge to cut through Chicago on a north-south direction. I-290 and I-55 spider off in downtown Chicago heading west and intersect I-190, I-294, and I-355. Why an I-355? Well I-55 starts on the outskirts of Chicago in Downers Grove. For good measure, I-80 runs east to west on the south side of Chicago. An auto transport service has little excuse about not being able to get around Chicago. There are almost too many choices. Making it still easier that most auto shippers have a smart phone handy upon which they can pull a Google Map.
Our original car shipping quote calculator usually displays very competitive auto transport rates in Chicago going just about everywhere. If you are in a rural area in Illinois or southern Wisconsin and are in a hurry, think about meeting a vehicle shipper in Chicago. It could make a big difference in how fast your automobile could ship. If not in a hurry, then sit tight and we are sure an auto transport truck will be coming your way soon enough. Call Direct Express Auto Transport at 800-600-3750 to learn more about shipping your vehicle to the Windy City.