Everybody knows about New Jersey, but where the heck is Jersey? It's a tiny island off the coast of Normandy, France. So what is the big deal about that? Nothing really, except that a certain British Navy¬†Vice Admiral Sir George Carteret was born there as it was a British crown colony. That bloke did so well in his naval career that in the early 17th Century he was in the right place, at the right time, to name an entire region after his birthplace. It's that easy folks. Were it not for that, Sir Carteret would have been long forgotten … and New Jersey might have been called something else entirely. The Lenape Indians had been there for thousands of years, and many other states were named after Native American tribes or words. So it's possible that Bruce Springsteen could have just easily been singing about those silly Lenape girls on the boardwalk.¬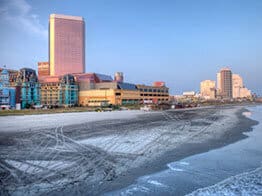 Getting Auto Transport Quotes Along The Garden State Parkway
So what about shipping a car along those exits on the Garden State Parkway? How hard can it be? Not hard at all from Atlantic City, New Jersey north to New York. Those towns are very well populated along route 9 and fairly easy to access from the I-95 corridor which also runs north-south. Beach communities such as Stafford, Toms River, Asbury Park (Greetings!), Long Branch, Red Bank and Middletown are well travelled by auto transport trucks and shipping to California, Florida, Texas or most anywhere else is not all that difficult. I-195 cuts east from Belmar across the north central part of the state to Trenton and everything north of that, such as Freehold and Princeton, are relatively easy to get to. Only south of Atlantic City, in Ocean City, Middle Township and Lower Township, does it become problematic simply because in the southern tip of New Jersey to Cape May, there isn't much through traffic. Few carriers just happen to be in the area. So shipping out of there tends to be slower than the rest of the state.
Vehicle Shipping Rates From Cherry Hill to Newark
Unless you are from Jersey, you might be unaware that a huge southwestern section is actually part of the greater Philadelphia metropolitan area. And in the northeastern section, a big chunk of New Jersey is part of greater New York City. In either place, just look at the baseball caps or jerseys that the people are wearing to know where you are at. That makes either end of the Garden State ideal for our vehicle shipping rates calculator because with a huge population comes lots of opportunity for auto shipping carriers. The New York suburbs of Hackensack, East Orange, Newark, Elizabeth, Fort Lee, Woodbridge, Edison, New Brunswick, Montclair and more are ideal for shipping cars. One big advantage is that the toll bridges leading to New York City are both expensive and time consuming, and those northern New Jersey towns stop short of that hassle. Indeed, it's probably a good idea for someone in Manhattan to get their car over the George Washington Bridge into New Jersey to make it easier to ship.
Car Shipping Rates Calculator
When it comes to interstate freeways, I-95 is not the only game in town. There is also I-287, I-78, I-80 and I-87 heading in from Pennsylvania and New York. Especially in the north, those well placed freeways make reaching the densely populated towns in northern New Jersey a breeze. You should have good luck there. We were the first company in the car transport industry to offer free instant quotes with an online car shipping rates calculator. Our low cancellation rate suggests we are still the best at it. We work hard to give you a competitive rate while also making sure it is priced properly enough to entice a driver to pick up your car. It is a bit of an art form and we have it down. If you want to learn more about the auto shipping business, please go here.
New Jersey Auto Transport
View Larger Map