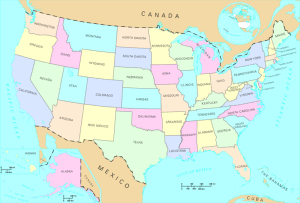 Shipping a vehicle from one side of this vast country to another is no easy task. It takes time, patience and money to make it happen, and while transporting your car may not be the most convenient thing you have to do, if you have to move it there's little else you can do. Most cars shipped cross country are done so on the back of an open auto transport carrier, the cheapest and most common auto transport truck on the road today.
Auto transport cross country takes anywhere from 10 to 14 days, on average, when shipping from one coast to another. Carriers are bound by federal regulations limiting their drive time to 11 total hours per day, and no more than 8 hours of consecutive driving. By doing a bit of quick math, you can see that carriers can only travel 350 to 450 miles per day if they follow all speed limits (which are usually 60-70 miles per hour, though many areas are still 55 on the interstates). Then factor in the additional stops along the way, as carriers traveling cross country will often stop in larger cities to unload vehicles heading there and pick up ones going further along the route your vehicle is traveling on, and it turns into about 10 to 14 days to get cross country.
This is pretty standard – you can't really do anything about the transit time from one location to another, because carriers are bound by all those rules and regulations. However, it's easy to become a commercial driver and there are always companies looking to hire experience transport truck drivers, so there are thousands of carriers out there which helps to keep even cross country transport prices relatively reasonable, at a price-per-mile basis. Carriers have to charge enough to make sure their overhead costs are met, such as fuel and maintenance, as well as to make sure that they bring home a little extra money at the end of the day. Carriers are running businesses too.
If you're interested in transporting your vehicle, you can fill out our free online car shipping quote form and get an instant auto transport quote. You can book your auto transport order right there online or you can call our toll-free telephone number at 800-600-3750 to speak to one of our live auto shipping service representatives who can answer your questions and explain more about the auto transportation process.