Auto Shipping Quote Calculator to Los Angeles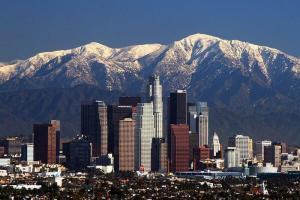 Auto shipping to Los Angeles is made much easier if you use our car shipping quote calculator to get an auto transport rate. Take extra care to choose the right town or zip code in the Los Angeles Basin, however, because just typing in Los Angeles will probably result in a vehicle shipping quote from downtown L.A.. But what if you are shipping a car from Santa Monica 16 miles away, or Long Beach 24 miles away, or   Santa Ana 32 miles away? It can make a difference in your auto transport quote.
When you think of Los Angeles, you think of Hollywood, glitz, glamour, bright lights, and lots of people. It is the most populous city in California, and one of the most ethnically diverse. It is so spread out. It can take literally two or three hours driving from one end to the other, depending on traffic. But like Randy Newman sang, "We love L.A.!" and for many good auto shipping reasons it is a wonderful place to transport a car. Just like Chicago, it is easy to amalgamate a full load of 8 to 10 vehicles on an auto transport carrier. So for the customer in the Los Angeles area, you benefit from economy of scale … as in big scale! For once all those cars you see on the road actually do you a favor when you need to ship one.
Here is some good advice on what to expect when shipping a car to Los Angeles. In the winter the snowbirds are shipping their cars in large numbers to Palm Springs and elsewhere in the L.A. Basin in large numbers. That drives up the cost for auto transport rates because of the competition for truck space. But that means the reverse is true, that fewer vehicles are transported out of L.A. in the winter and with all those carriers having shipped in, it drives the price down on our very original car shipping quote calculator for those heading out. Oddly, the customer can expect to ship a car faster and cheaper leaving the L.A. Basin in the winter. See there, you were due for a break, right?
Then in the spring all the college students and retirees (snowbirds) head back home, and the auto transport rates are driven back up. All of a sudden our auto shipping quote calculator is cheaper transporting to L.A.. Summertime the auto transport business kind of evens out and a sort of parity exists in the market place that lasts through the fall. So take note of the time of year in which you are shipping your car to see what to expect. Use our car shipping quote calculator or call Direct Express Auto Transport at 800-600-3750 to learn more about transporting your vehicle.