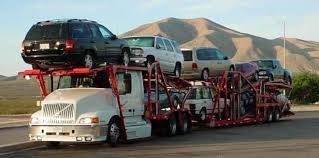 Auto shipping reviews are some of the most important things that any self-respecting auto transport company wants to have. But more than just reviews – they want good reviews, reviews from customers who had a great auto transport experience with them. Word of mouth is important to auto transport companies because it's a big source of advertising, and one of the biggest websites for auto transport reviews and word-of-mouth advertising is Transport Reviews, the largest and most comprehensive auto transport review site on the internet.
Transport Reviews is the #1 review site for auto transport companies, and any company that values their reputation will be listed there. It has literally thousands of companies listed on its site, and all the reviews posted are from real customers who transported their vehicles with those companies. You can search by top companies over a certain period of time, or those with the highest reviews all-time, and more. It's a great way to make sure that the companies you're looking at transporting your vehicle with are top-notch companies.
There are, of course, other review websites out there for auto transport companies, but none can hold a candle to Transport Reviews. They are the largest website for auto transport reviews because it is an easy-to-navigate, user-friendly website that requires no signing up for customers to peruse the various reviews. It provides easy search tools for finding specific companies and it is widely considered to be the most reliable review website out there. They tell you what reviews are compensated or paid for by shipping companies (which was a problem a few years back has since been curtailed), and they have a fairly stringent system for identifying fake reviews and preventing them.
When you're gathering quotes to transport your car we recommend stopping by Transport Reviews and checking out the experiences that other people have had with that company. Not every company out there is great – some of them have left too many customers unhappy, and they're really easy to spot because they'll have less than 5 stars total. You want to go with shipping companies that treat their customers with respect and honesty; sometimes things happen that customers don't like but the shippers have little control over, and the best ones try to work with their customers regardless of the problems.
Ultimately, what company you choose to transport your vehicle is up to you, but you should definitely look at the different reviews that customers post about the shipping companies you are looking at moving your vehicle with. The more information you have before you book your order, the better your chances are of finding a company that will move your vehicle without any hassle or problems. If you're interested in transporting your vehicle, you can fill out our free online car shipping quote form and get an instant auto transport quote. You can book your auto transport order right there online or you can call our toll-free telephone number at 800-600-3750 to speak to one of our live auto shipping service representatives who can answer your questions and explain more about the auto transportation process.